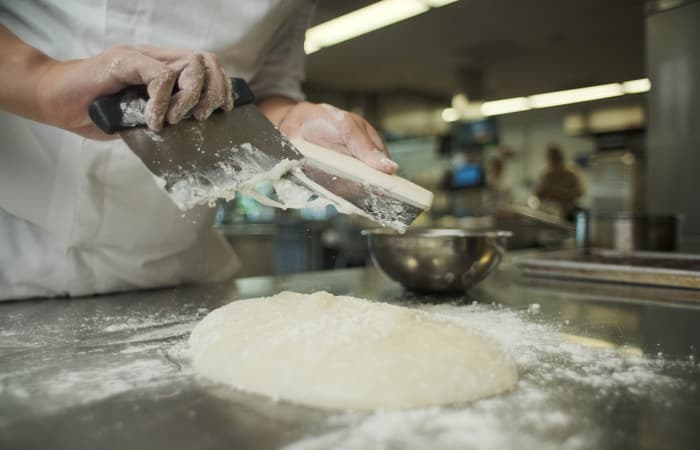 What is Culinology® and Why Does it Matter?
Our developers are known as Culinologists® here at CuliNEX, and we know it requires a bit of an introduction when clients first hear the word. The reason we call our team members Culinologists is a story that goes back to our founding.

Mark Crowell got involved with the Research Chefs Association, the organization that owns the terms Culinology® and Culinologist®, in its early years. This happened to coincide with his first job in food R&D. He quickly realized that the combination of culinary arts and food science would be a great help in his new R&D job. He was working for Olive Garden as Director of Culinary Development in 1997. Olive Garden had 475 restaurants and more than $3 billion in annual revenues at the time. While most food was cooked fresh in their restaurants, they manufactured components from pasta sauces to 500 million of their famous bread sticks each year.
Mark was formally trained as a chef at the Culinary Institute of America, but it didn't take him long to figure out that owning a restaurant and understanding food manufacturing were two entirely different things. Without a background in food science, he needed to learn about food formulation, food processing and ingredient technology, food safety and labeling regulations, and more than fifty other knowledge areas. RCA's founding couldn't have come at a better time.
In 1998, Mark was recruited from Olive Garden to Starbucks to head up food product development at the fledgling coffee company, which grew to over 10,000 stores during his time. When he left in 20
05, Mark had served on the RCA's board for more than 5 years and was a firm believer in Culinology.
Founded on Clean Label and Culinology
Upon forming CuliNEX in 2005, Mark adopted two founding principles. First, his team would focus exclusively on providing Clean Label development to answer a growing demand. Secondly, they would practice the discipline of Culinology.
Those of us that have served in traditional food R&D departments, recognize that culinary excellence is sometimes missing in developing food prototypes. A Culinologist is a professional who applies scientific knowledge to culinary arts, specifically in the development, creation, and improvement of food products. They work at the intersection of food science and culinary arts, combining their knowledge of chemistry, nutrition, and food processing to create innovative food products that are safe, tasty, and nutritious. That's why our food scientists learn culinary principles and our chefs study food science.
When a multi-talented Culinology team works in harmony, the taste experience is guaranteed to rise to new heights. We are a team of Taste Champions and clients benefit with a "flavor first" finished product that may never emerge in a purely food science test kitchen. Don't be mistaken, we apply the critical scientific rigor to our applications and as clients often say, "our food just tastes better."
To become a Culinologist, our colleagues each have a growth plan to expand their knowledge. Our team has broad experience across multiple food categories, from soup to nuts, honestly. But there is a constant pursuit of greater knowledge – including studying the role and functionality of fats and oils, carbohydrates, and proteins in processing, food chemistry and microbiology, food safety and HACCP practices, product shelf life, fundamentals of production systems, food service commercial kitchens and equipment, and importantly, the building of deep, resilient flavors and sensory attributes in each food formulation.
The RCA definition of Culinologist
From the RCA website, "members are the pioneers of the discipline of Culinology® — the blending of culinary arts and the science of food. Culinology®, a registered trademark of RCA, is a fast-growing discipline that has evolved from the valuable partnership between the culinary professionals and food scientists." They even have a well-defined competency list and certification program for food professionals seeking to become better culinarians and food scientists, and many of our Culinologists have completed this certification. Learn more at RCA: Core Knowledge Competencies (culinology.org)
Meet CuliNEX Culinologists?
Of course, Mark was the first Culinologist certified in the organization, but let's introduce a couple of our team members to understand the role Culinology plays in our work.
Michelle Tittl joined our team after working with Target, American Sugar Refining, and Starbucks. She leads a team of Culinologists as a product development manager to deliver a broad list of client objectives and projects. Michelle first entered the food industry pursuing a food science degree from the University of Wisconsin-Madison and completed her formal education with an Accelerated Culinary Certificate from the Culinary Institute of America in Northern California. In her leadership role, Michelle leans on her team to blend the best skills and acumen to solve problems and create delicious, manufacturable foods for clients. She also picked up a wicked sense of humor along the way that shines through her work.
We are so proud of Brad Walker, who recently completed his Certified Research Chef certification with RCA. After building on his long culinary career as a chef and restaurant owner, he likes to say he stumbled into CuliNEX to discover a completely new avenue for his creativity and expertise. While expanding his knowledge of the science of food with the RCA certification program, Brad continues to bring his culinary craft to the project team, keeping a focus on flavor-first creativity. Brad can wax on about flavor, food trends, culinary techniques and brings his new passion for taking products to the shelf for clients. Watch a short video in Brad's words on his role on the team - Culinary Excellence Drives Food Product Development at CuliNEX.
Joe Choi has another amazing background in the food industry. Joe studied Biochemistry at Washington State University before extending his education at The Culinary Institute of America in Hyde Park, New York where he earned a Bachelor of Professional Studies in Culinary Science and an Associate of Occupational Studies in Culinary Arts. The blend of culinary and science permeates all that Joe does. Watch this delicious video showing Joe innovating in our test kitchens to catch of glimpse of the refined detail we put into our food formulation - A Commitment to Culinary
And for more, explore these stories on the CuliNEX website explaining our passion for Culinology:
CuliNEX | How do we do CULINARY at CuliNEX?
CuliNEX | How to Become a Culinologist: The Culinology Textbook
Put our Culinologist to work for you, creating great tasting foods that scale up in production. Contact us today with your project needs.
Where else are Culinologists Found?
Culinologists can work in a variety of settings, including:
Food Manufacturing Companies: Culinologists can work in food manufacturing companies where they are involved in developing new food products or improving existing ones. They may work in research and development departments, quality assurance, or product development teams.
Restaurants and Foodservice Industry: Culinologists work in the restaurant and foodservice industry, where they are involved in menu development, recipe creation, and food preparation. They may work in the kitchen, as chefs, or in management roles, overseeing the culinary operations of a restaurant or foodservice establishment.
Retail Industry: Culinologists can also work in the retail industry, developing new food products for grocery stores and supermarkets. They may be responsible for creating and testing recipes, designing packaging, and conducting market research to determine consumer preferences.
Education and Research Institutions: Culinologists may work in academic institutions or research centers, where they conduct research on food science and culinary arts. They may also teach courses on food science, nutrition, and culinary arts.