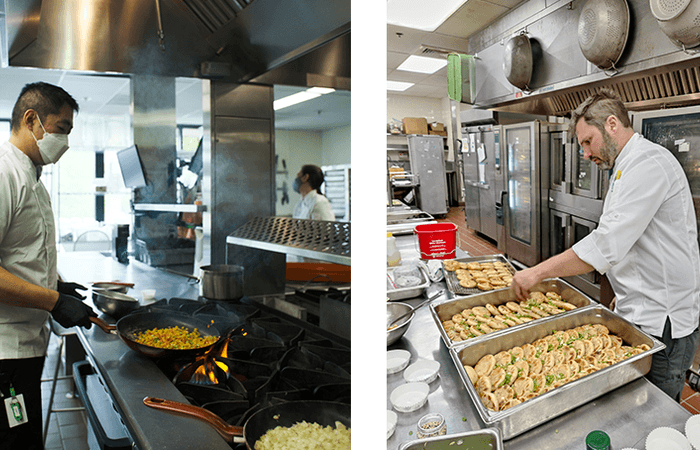 How do we do CULINARY at CuliNEX?
"Clients often come to us and say they heard we make delicious food. As a trained chef, that has been the gold standard I've set for CuliNEX" — Mark Crowell, founder and CEO
CuliNEX is at the forefront of creating delicious foods that delight consumers. We always say, "taste comes first." At the end of the day, flavor trumps all and it's the most important attribute for consumers, consistently proven in research time and again.
How do we put taste first? It's a culinary thing.
We lean heavily on our culinary chops to make great-tasting food the hallmark of our client work. We're all foodies at heart and bring decades of experience in food creation to the kitchen. Exploration of great flavor and ingredients is second nature. At CuliNEX, we rely on diverse palates and experience that our team members bring to the crafting of delicious food with wide appeal.
The line between culinary and food science professionals is a fluid one at CuliNEX. Most of our team has training as Culinologists®—a term coined by the Research Chef's Association (RCA) to define the unique convergence of culinary arts and food technology. We love the practice and the art of food product development, and it has brought the CuliNEX family nearly two decades of success.
Our team is your team
Take Joe Choi, CuliNEX Culinologist, for example. Joe worked in restaurants for 16 years, earned his degree at the Culinary Institute of America, and also studied biochemistry at Washington State University. "As a Culinologist, I use inspiration from the culinary side with a deep understanding of the food service world to ideate product innovations," Joe shares. "I bring my background in the restaurant industry to our tight-knit team to positively influence the end product for clients. Cooking culture is very collaborative at CuliNEX, and the most interesting things happen when we work together. We are continuously learning from one another. The process is flowing and ever changing, and we all get better as a result. In the end, the same complex layers of flavor present in the prototype on the CuliNEX bench will be present on the grocery shelf."
"Chefs focus on the tasks and get the work done — multitasking is our sweet spot," adds Culinologist Brad Walker, another staff chef with a long and impressive career in culinary. Brad owned his own restaurant and worked in high-end kitchens across the U.S. Plus, he's also working toward his certification as a research chef through RCA to round out his skills as a CuliNEX Culinologist.
"Chefs follow proven techniques that have been honed from tradition and repetition," Brad emphasizes. "Scientists, on the other hand, methodically evaluate and research. The scientific method benefits from the application of techniques established by traditional culinary arts. Our scientists love to 'break' things and then fix them on the benchtop. Chefs are driven, practical problem solvers and use the best information at hand to complete the task. The 'push/pull' in the lab comes as scientists and chefs drive toward perfection and replicable results. Working together, we deliver a great tasting innovation that can be commercialized with success."
Curious about the way we "culinary at CuliNEX"? Here are some key principles we live by:
Culinologists have dual training in food science and culinary arts, with broad experience across food categories and channels. As our team expands, we search for other experts who bridge both worlds.
Project teams are created to bring a variety of skills to the project, blending culinary and science to optimize the challenge at hand.
Staff works fluidly throughout the lab, supporting each other with insights and feedback. That might mean tasting and sharing one day, and problem solving with another team the next.
Microsoft Team Channels are created to share insights and inspiration, from new innovations seen in the grocery store or highlights of a new ingredient that made a weekend barbecue sing.
Team celebrations always involve food exploration, from shared cooking events to global cuisines from our local food vendors to educational coffee cuppings during our fika gatherings. Simply put, food is our life, our passion, our work.
We have found these practices help us deliver better food for our clients and their consumers. Reach out to us if you want to learn more about our Culinology program.