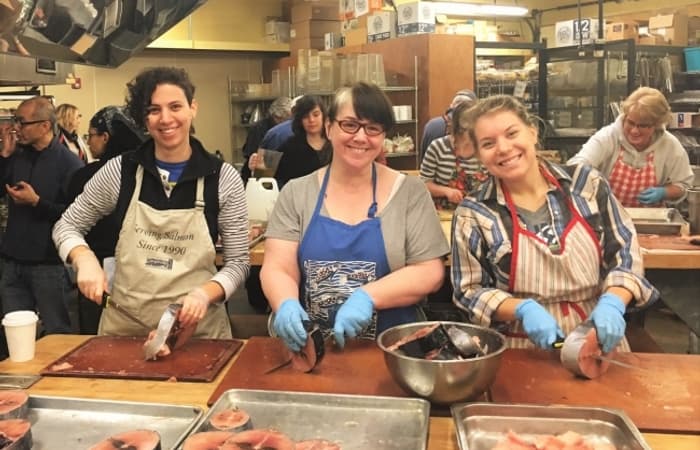 BCFT Food Scientists Spotlight: Webb Girard & Katherine Langel
Whether it is intentional or not, every company has a unique culture. Making it a great one, however, takes a lot of careful thought and daily practice. Discover how CuliNex works to create an environment that is fun, tasty, and creative.
1. We make time and space for thoughtful discussion
As a consultancy, we keep track of our time very carefully, with every 15 minutes accounted for! That said, we carve out space in our schedules to gather together to discuss new projects, on-going project updates, and debrief as a group at the conclusion of a project. These meetings help everyone feel in the loop and retain key learnings, even if they weren't on the specific project team.
We schedule quarterly off-site retreats and get away from the hectic office to sit down together to break bread, assess how we're doing as a group and think about big picture company goals. Sometimes that means a friendly cooking competition, big brainstorming session, or touchy-feely conversations about company values and best practices. Everyone is a part of company culture, and at CuliNex we build it together.

Emily Munday
2. We eat well
We wear many hats at CuliNex, but by experience and training we are all culinologists. We share a passion for creating and eating good food, so that means beyond standard sensory evaluation for current projects, we enjoy many shared family meals, snack-eting meetings, happy hours, and even recipe contests.
Most recently, we instituted a daily Fika time, in the Swedish tradition. It's a standing 15 minute coffee break, to nibble and catch up with each other. We think that well-fed, connected team members just work better!

Emily Munday
3. We value education and learning
One unique attribute of our culture is the emphasis on continued education, both at work and outside of the office. We schedule monthly internal education sessions, where each team member gets a chance to lead the group in a spirited discussion on current events (such as GMOs), teach a new skill (such as sausage making, food photography, or beer brewing), or learn about a specific cuisine (such as regional Indian or Israeli food).
We have team members studying for the Certified Research Chef designation and encourage attending seminars, trade shows and training. We are always pushing ourselves to become better by making time for learning.

Emily Munday
4. We constantly assess our process
In a perfect world, every project would go smoothly and we would have all the answers. In the real world however, there's always speed bumps, potholes and lessons to learn about roads less traveled. Over munchies (and sometimes beer) we regularly set aside time to talk about how we can improve our processes, whether it's creating new templates, organizing files differently, communicating in a new way, or even getting rid of things that just don't work. We never do something just because "that's how it's always been done".

Emily Munday
Creating a great company culture isn't necessary for running a profitable business. It certainly isn't easy to do either and requires everyone to participate. However, it is vital to making CuliNex a great place to work and ensuring our clients receive top-notch service, which is why we put such careful thought into cultivating it.
For more information on our mission and how we make it a reality, check out our About Us section.