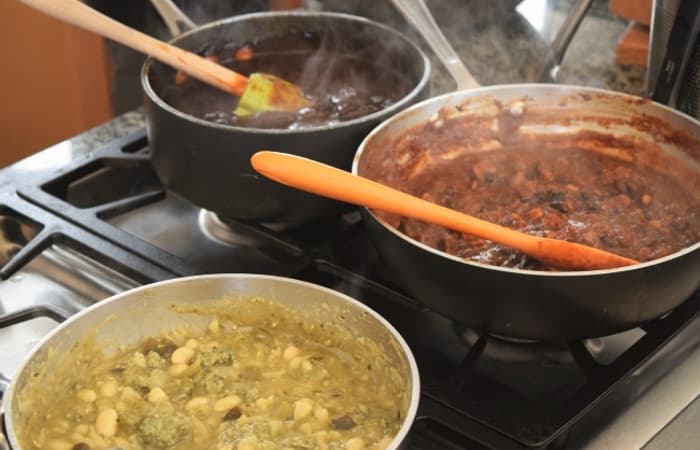 Family Meal: Chili Cook-Off
There's nothing like a little friendly competition to get the creative juices flowing, and no better cooking competition than a Chili Cook-Off!
As you've seen in previous posts, we quite enjoy getting messy in the kitchen and going head to head with other great cooks. For our quarterly company retreat, we had a packed agenda discussing our goals, vision, and growth plan, but we also had some serious business to attend to: chili. 
Chili Defined
The International Chili Society defines chili as, "Any kind of meat or combination of meats, cooked with red chili peppers, various spices and other ingredients, with the exception of BEANS and PASTA
which are strictly forbidden. No garnish is allowed." CuliNex however, being the progressive organization that we are, has a much looser definition of the dish.
We allowed beans and vegetables of any kind, and encouraged garnishes galore. Chili entries were to be accompanied by a cornbread (again, any kind of cornbread-like item) and a beverage (alcoholic or not). Three teams of two were randomly selected and the teams got to plotting. Let's just say this: the light-hearted smack talking was thick in the weeks leading up to the cook-off. 
Team Anne-marie & Webb 
Smoky Black Bean Vegetarian Chili, Spent Grain Corn Bread with Agave-Chipotle Butter, Smoked Martini
"We presented a riff on traditional Chili Colorado  To make our chili, we took soaked black beans and gently smoked them with a touch of hickory.  Instead of beef, which is traditionally used in Chili Colorado, we added a lightly seasoned and baked tofu, which added a meaty texture.  An earthy, slightly spicy paste of dried and fresh chilies added depth and heat and touch of tomato rounded out the dish. 
To accompany the smoked chili, we made a spent grain cornbread using dried spent grains used to make beer.  An agave-chipotle butter topped the bread, carrying the smoked theme through to the bread.  As an aperitif, we offered a smoked martini.  Vodka was just introduced to a smoked whisky, which added lovely earthy and smoky notes. We garnished with a vermouth soaked caper berry to add a bit of briny spark to the drink."


Team Lesley & Mark
Texas Beef Chili with "Not Your Grandmother's" Corn Bread
"Big, bold, deep, kick ass chili. It takes no prisoners and makes no excuses. No wimpy vegetables here, no sir'ree. Just five kinds of roasted chilies nestling well trimmed beef chuck, slow cooked for 3 hours until meltingly tender.  Accompanied by corn bread so rich and decadent, (its really cake) and Dubbel Entendre from Sound Brewery, a dark abbey style ale with aromas of chocolate malt and dark toffee, with a hint of banana and stone fruits. Was it rich? Hell yes, but we didn't hear anybody complaining."


Team Emily & Katie
Chorizo Verde Breakfast Chili
"We decided to do a riff on our favorite meal of the day: brunch. To start, we made a fresh, homemade pork chorizo verde (with fresh poblano & serrano chiles, garlic, tons of cilantro, spinach and even some chlorella powder for a deeply green sausage) simmered with heirloom white beans, onions, blistered tomatillos and roasted green chiles. To finish, each portion was drizzled with Mexican crema, chopped cilantro and crispy bacon.. We served the chile verde over crispy, cheesy cornbread waffles along with a cold, spicy Michelada made with Dos Equis lager, garnished with a chile salt rim, crisp bacon, fresh jalapenos and habanero cheese curds." 


The Verdict
The judging was done by secret ballot, with no one allowed to vote for themselves. Ultimately, tradition prevailed, with Mark & Lesley's classic red chili and brown butter fresh cornbread taking first place.  In lieu of prizes, our Queen of Culture, Anne-marie arranged for monogrammed hoodies with the CuliNex logo and our un-official titles (such as The Head Cheese, The Real Head Cheese, and yours truly, Senior Social Butterfly). It's safe to say this team cook-off event was a win for everybody; we all walked away with full bellies and plenty of leftovers.
For more information on our how our creative concepting process works, check out our services page to see how we can help you refine your ideas into winning products!