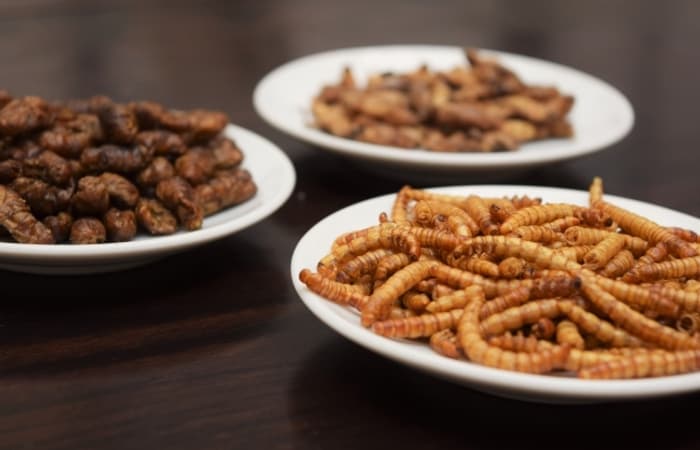 Marx Foods Edible Insect Challenge
What we do at CuliNex is complicated, but it can most simply be distilled down to this: we develop delicious, clean label foods. No, we don't own a restaurant, and you won't find the CuliNex brand in your grocery store, but you will find plenty of foods that we helped create for our clients.  

We find all the ingredients, create a formula (just a fancy name for a very exact recipe, expressed in percentages and grams rather than cups and teaspoons), and work with food manufacturers to make sure the product can be scaled up in a plant and still taste just as good as when we made it in our Seattle test kitchen.
When we're not working on client projects, we love to play in the kitchen. We've made fresh sausages and burgers, Israeli and Malaysian food, and had many a beer tasting.
In our quest for new ingredients, we came across Marx Foods, Seattle-based retailer of the finest ingredients a chef could ask for, from edible flowers, to exotic meats like wild boar and Wagyu beef, to fresh truffles and green garbanzo beans, and seasonings of all kinds. Their online pantry is amazing and even has a wide selection of edible insects!
The Challenge
When we learned about the Marx Foods Edible Insects Challenge, we jumped at the chance to go head to head with the best food bloggers to experiment with their sustainably sourced ingredients. It was easy to start dreaming up concepts, but we finally decided on some hoppin' party snacks that would please even the most sophisticated palates. We received samples of crispy crickets, nutty silkworm pupae and toasted beetle larvae and couldn't decide on just one, so we developed a recipe for each! Hope you enjoy these as much as we did and are inspired to get buggy in the kitchen.
Pickled Pupae & Olive Chèvre Toasts with Mint


As flannel loving, cider drinking, kale worshipping millennials, we love a good toast with savory toppings. We also have a knack for making our own pickles, and quite honestly, what doesn't sound more appealing than pickled pupae? After a quick pickle in olive brine, these silkworm beauties get coarsely chopped and add a nutty, sweet corn-like flavor into a bracing olive topping, spooned over creamy chèvre-topped toast and spinkled with fresh mint and a few crunchy, whole silkworm pupae.
Ingredients
For Olive Pupae Spread
12 ounce jar mixed olives, pitted, liquid reserved (Kalamata, Green etc.) (340g)
2-3 tablespoons (30-45g) olive oil
1 tablespoon (15g) lemon juice
3 tablespoons (45 g) red onion, minced
1 clove (5g) garlic, minced
¾ package (10g) Silkworm Pupae
¼ cup (60 mL) apple cider vinegar
For Cheese Spread
8oz (225g) chevre soft goat's cheese
3 tablespoons (45g) milk (half & half or cream)
1 tablespoons (1.5g) finely chopped fresh mint, plus more for garnish
½ tsp (1 g) lemon zest
For Assembly
Radishes, sliced thinly
Baguette, sliced ~ ½ inch thick and toasted
Salt & pepper to taste
5 g Silkworm Pupae
Method
Drain olives saving liquid brine. Place olive brine into a small saucepan and reduce by 1/2. Stir in vinegar & pour over pupae and let sit for about 30 minutes.
Meanwhile, add olives, olive oil, lemon juice, red onion, and garlic to bowl of food processor. Pulse until add ingredients are minced but not smooth, about 10, 1-seconds pulses. Remove pupae from brine, and add to processor bowl, pulse a few seconds to combine. Add salt and pepper to taste. Set aside.
Mix chevre, milk or cream and chopped mint to combine until smooth. Add salt and pepper to taste. Set aside.
To assemble, spread a thin layer of cheese mixture onto each toast round. Place three sliced radishes on top of the cheese. Place a spoonful of the olive and pupae spread on top and garnish with a sprinkle of chopped mint, a drizzle of olive oil, and the reserved silkworm pupae.
Caramel Cricket Crack Corn


This aptly titled snack is truly addictive; it's a nutty mixture of crunchy crickets, toasted coconut, cashews and popcorn, all tossed with a buttery sweet curry caramel that's baked to crispy perfection. Seriously, make a double batch because this stuff goes fast!
Ingredients
5 cups (43g) popped popcorn
1/3 cup (7g) Marx Foods crickets
1/3 cup (100g) cashews
1 cup (200g) sugar
1 ¼ teaspoons (8g) salt
¼ cup (56g) water
2 tablespoons (28g) unsalted butter
¼ teaspoon (1.25g) baking soda
1/3 cup (24g) toasted coconut chips
1 teaspoon (2.5g) curry powder
Method
Combine popcorn, crickets, and cashews in a large bowl. Set aside.
In a medium saucepan, combine the sugar, salt and water. Cover with a lid and bring to a boil, about 2 minutes.
Remove the lid, reduce to a simmer and cook until the sugar reaches a deep amber color.
Remove from heat and add the butter and baking soda. The mixture will foam up, just continue to stir until it is incorporated and smooth.
Immediately pour the mixture over the popcorn mixture and toss to combine.
Scatter into a single layer and bake in a 350°F for 10 minutes.
Sprinkle the curry powder evenly over the corn, stir and redistribute the caramel corn evenly; cook for another 10 minutes.
Remove from the oven and allow to cool. Once cool, break into bite size pieces and store in an airtight container.                                                                                          
Brown Butter Beetle & Pretzel Butterscotch Blondies 


We may have gone a little crazy with the alliteration here, but there's just too many good things going on in these bars to not call them all out. Browned butter, brown sugar, and ground beetle larvae form the chewy base of these blondies, which are topped with a gooey, chewy buttescotch sauce, crunchy pretzels and whole beetle larvae. Your next bake sale = winning. 
Ingredients
Brown Butter Beetle Blondies
1/3 cup (7g), Marx Foods beetle larvae
1 ½ sticks (170g) butter, unsalted
2 ½ cups (312g) flour, all purpose
1 teaspoon (6g) salt
2 large (100g) eggs
1 tablespoon (15g) vanilla extract
1 ¾ cups packed (400g) brown sugar
Butterscotch Beetle Topping
1 stick (113g) butter, unsalted
½ cup (110g) dark brown sugar
½ cup (122g) heavy cream
¼ teaspoon (1.5g) salt
2 teaspoons (8g) vanilla extract
1 cup (120g) pretzels, crushed
1/3 cup (7g) Marx Foods beetle larvae, whole
Method
In a food processor, pulse the beetle larvae until finely ground. Now you've got beetle flour!
Preheat the oven to 350F and line a 9x13-inch pan with greased parchment paper.
Melt the butter in a small stainless steel pot or saucepan over medium heat (so you can see the color of the butter change). Cook for several minutes, stirring frequently. Watch it closely as it starts to brown. Pour into a small bowl to stop the cooking and cool to room temperature.
Sift the flour, ground beetles, and salt; set aside.
In a large mixing bowl, stir together the cooled butter and brown sugar until creamy. Add the eggs and vanilla and stir until combined. Add the flour mixture and stir until the thick batter comes together.
Dump the batter into the prepared pan and press it out to an even thickness.
Bake for 30 minutes, rotating halfway through cooking. While the blondies are baking, prepare the butterscotch topping.
In a saucepan, melt the butter. Add the sugar, cream, and salt and bring to a gentle boil.
Simmer for 5 minutes until thickened.
Remove from the heat and stir in the vanilla, then the pretzels and beetles.
Remove the blondies from the oven and pour the butterscotch topping evenly. Allow to cool completely before cutting into squares.