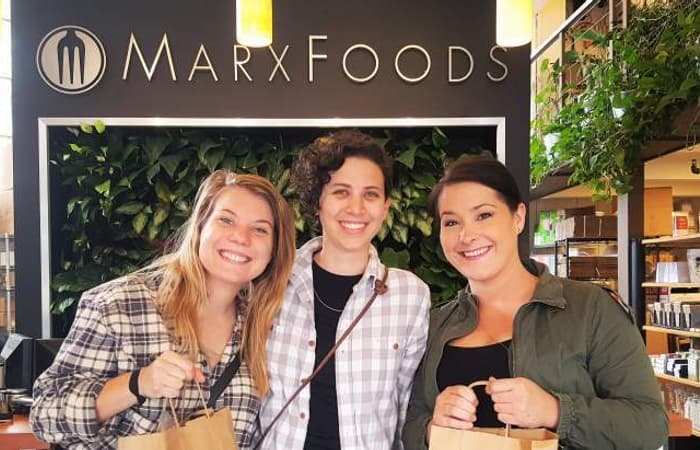 BCFT Food Scientists Spotlight: Webb Girard & Katherine Langel
A few months ago, Katie, Lesley, and Emily embarked upon a creative journey to develop recipes using Marx Foods' edible insect ingredients in a recipe contest. Lo and behold, we took first place! Our winnings included office bragging rights and a generous $150 gift certificate to the Marx Foods Pantry.

Emily Munday
We decided to share the bounty together in a celebratory meal. Here's what we concocted:

Emily Munday
Goldenberry Spread & Artisan Cheeses
Goldenberries are a small yellow fruit covered in a papery husk, related to gooseberries and tomatillos, native to Peru. We picked up a sweet, jammy spread made with the tart fruit and paired it with a selection of cheeses, including a gooey Triple Crème Brie, truffled soft cheese, stinky English Bleu, and aged Spanish Manchego along with plenty of our favorite La Panzanella Crackers.

Emily Munday
Escargot with Mâitre d'Hôtel Butter
Why mess with a classic? Escargot with garlic and herb butter is a favorite French appetizer, and for good reason. Petite snails offer a tender, savory bite to whet the appetite before a meal. Emily made a rich Mâitre d'Hôtel butter with lemon juice and zest, garlic, and parsley. The American-raised escargot from Little Gray Farms were rinsed before being tossed in a hot pan with the butter and some Sauvignon Blanc. A few minutes later they were ready to be skewered onto seeded baguette, perfect for sopping up the buttery sauce.

Emily Munday
Green Cucumber Vinegar Gin Shrub with Mint
Since the rain was nowhere to be found and the day was beautifully sunny, we wanted to start the evening off with a refreshing, light and crisp cocktail. We made a cucumber and mint simple syrup with mint picked fresh from the garden for sweetness, added the crisp and fresh Green Cucumber Vinegar for a tart zing, a dose of floral-citrusy gin from a recent trip to New Holland Brewery, and topped it all off with a splash of soda water. A perfect start to a great meal!

Emily Munday
Exotic Kofta Trio: Kangaroo, Wild Boar, Venison with Smoky Shoyu Glaze
We wanted to try as many foods as possible and exotic proteins were at the top of our list. We scored three ground meats: kangaroo, wild boar, and venison. Being the discerning food scientists that we are, we decided to try them in the same application with the same seasonings to fully enjoy each meat's distinct flavors.

Katherine Langel
Emily lightly spiced each meat with coriander, cumin, cardamom, black pepper, cayenne, nutmeg, cinnamon, and paprika, along with minced onion, garlic and parsley before skewering and grilling each kofta. While still on the grill, she glazed them with a smoked Shoyu soy sauce, then served them warm with crisp cucumber, onion, grilled flatbread and a tangy yogurt sauce. The kangaroo had a slightly acidic, almost fishy profile, which some dinners found less appealing, while the venison and boar had gamey flavors that pleased most everyone.
Emily Munday

Emily Munday
Balinese Urutan Sausage & Greens
Accenting the flavorful entrée, the side dishes were bold and exciting! Lesley was gracious enough to allow us to pick fresh greens from her garden to pair with the Urutan sausage, which is a Balinese traditional dried sausage flavored with ginger, garlic, turmeric, and Laos powder. We sliced the urutan into thin slices and sautéed to render the flavorful fat. In the fat drippings, we sautéed a mixture of greens (kale, chard, bok choy, beet and radish tops). The side was served warm with toasted almonds on top.

Katherine Langel
Mastic-Scented Grains & Caramelized Mushrooms
Our second side dish was flavored with mastic, which is a resin from a mastic tree and has a flavor of pine or cedar with a slight bitter note. Using a rice cooker, we cooked a blend of amaranth, red rice, multi-colored split peas, and quinoa. The side was served chilled with caramelized mushrooms and sliced radishes.

Emily Munday
Candy Cap Mushroom Cream Puffs
For dessert, we used dried Candy cap mushrooms to infuse heavy cream to make a thick and rich pastry cream to be piped into lightly golden brown cream puffs. The mushrooms imparted a surprisingly sweet aroma and flavor of maple syrup and brown sugar, which filled the kitchen with a delicious bouquet for the rest of the week!

Emily Munday

Emily Munday
Overall, it was truly an unforgettable meal. Almost every project we work on at CuliNex requires ingredient sourcing and as you can see, it's not a matter we take lightly. Finding the best ingredients for our projects is one of the most important things we do. For help with your next creative project, call us today!