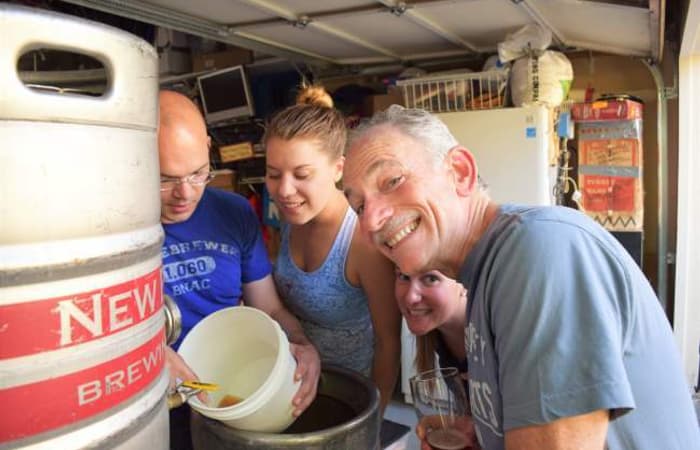 The Ultimate Beef Jerky Showdown
At CuliNEX, we are always down for the following things:
1. Brainstorming fun, exciting new flavor combinations
2. All things meat-related (bacon being our favorite)
3. A team challenge with some light smack-talkin'
For our last company retreat, we not only gathered to discuss the future of CuliNEX, but also to throw down in the ultimate beef jerky showdown.

Emily Munday
The Challenge
To level the playing field, our in-house meat expert Webb Girard helped orient us to the world of dried meat snacks, including the ingredients (never change the ratio of meat to cure), the flavorings (always choose dry over liquid), and the method (toss and stack the meat for even seasoning distribution).

Webb Girard
We then broke up into four teams and each team was tasked with creating an innovative, flavor-packed beef jerky. The samples were then evaluated at the company retreat by our official jerky critic Webb and guest judge Isla (Webb's adorable 7 ½ year old daughter).

Emily Munday
The Jerky Teams
Spicy Kaffir Lime Red Curry Jerky

Emily Munday
Team Crowell (sadly with only one participating member), prepared Kaffir Lime Red Curry Jerky. An awesome concept that was not fully appreciated by the judges who "couldn't take the heat".  Notwithstanding that little problem, Mark drove deep into the math pool to figure out the proper salt content after being scared silly by Jerky Ninja/Yoda Girard about not having the proper salt/sugar ratio. (For the record he never mentioned making Jerky that set your hair on fire would be a problem). Speaking of records, they are currently 1-1 and are sticking to chili from now on.
Washington's Finest Blackberry Merlot Jerky

Emily Munday
Team Hannah and Katie prepared a finger-licking jerky that was slowly hickory smoked and marinated for hours in luscious, plump, handpicked Washington's freshest, wildest blackberries, toasted onion spice, and delectable, fruity, pungent merlot from Washington's finest vineyard, Charles Smith Winery. Accompanying the scrumptious jerky was a skillfully written Product Profile Sheet (which is part of our development process) to showcase not only their jerky talents, but marketing efforts!
North African Spicy Merguez Sausage

Emily Munday
Team Lesley and Emily paired up the historic jerky event and set their sights high on the prize with an aspirational theme. Over beers and schnitzel sliders at Rhein Haus, they dreamed up a spicy North African sausage-inspired jerky, seasoned with smoked and sweet paprika, cumin, cinnamon, garlic, fennel, caraway, and a touch of lemon zest. Alas, their bold flavor choices did not survive the long smoking process, but there is no doubt that after some reformulation a second iteration would have smoked the competition.
Colonel Mustard in the Kitchen with the Smoker

Emily Munday
Team Toby and Hayley created a mustard and coriander based jerky. This jerky was packed full of flavor and voted the most commercially viable by the judges. They started their formulation by looking at South African Biltong and adapting it to a jerky application. Additionally, they added some garlic, onion salt, and mustard to spice up their recipe. Ultimately, their jerky failed to a locally sourced jerky full of whine!
The Winning Team

Emily Munday
Taking first place was the sweet and savory Blackberry Merlot Jerky by Hannah and Katie! The jerky was deemed the judge's favorites for it's bright, berry-forward profile and subtle wine notes. It was interesting enough to be different, but was extremely snack-able too.

Luckily, the sore losers had plenty of home-brewed beer from Webb's home brew operation to dull the pain. Overall, this retreat's competition was filled with creativity, team bonding, and plenty of friendly trash talking—the perfect recipe.
Does your project need some fresh new flavor ideas? Contact us to learn how creative ideation could help make your project a success!