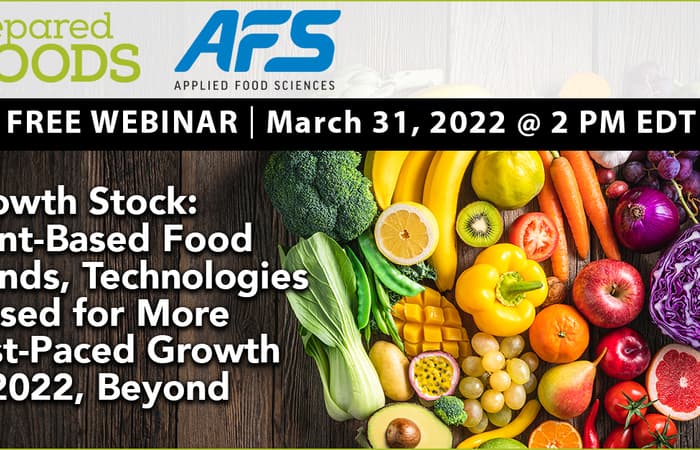 Prepared Foods Plant-Based Food Trends & Technologies Webinar
Total U.S. grocery marketplace data show plant-based foods' US retail sales increased by double digits in 2020, growing 27% and bringing the total plant-based market value to $7 billion. That's the latest assessment from the Plant Based Foods Association and The Good Food Institute who coded data supplied by SPINS and IRI.
The two organizations add that plant-based foods sales have grown 43% in the past two years, which is nine times faster than total food sales. Furthermore, 57% of all U.S. households purchased plant-based foods in 2020 (more than 71 million households) and that figure is up from 53% in 2019.
Elsewhere, a Bloomberg Intelligence report estimates global sales of plant-based dairy and meat alternatives reached $29.4 billion in 2020. Bloomberg forecasts five-fold growth by 2030 with sales reaching as much as $162 billion.
Where are white space opportunities for new plant-based products? What technologies also present opportunities and challenges ahead? To address these questions, Prepared Foods brings food formulators an exclusive one-hour thought leadership webinar.
In this webinar, our speakers will discuss:
Overall 2021 market growth and key product category activities
New product innovation across both the retail and foodservice sectors and emerging ingredient options
Plant-based ingredient, formulation advances in 2021 Key opportunities and challenges for 2022 and beyond