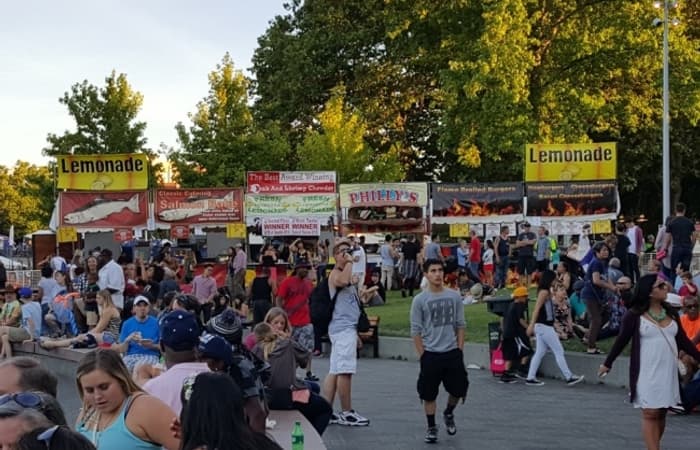 BCFT Food Scientists Spotlight: Webb Girard & Katherine Langel
What's a better way to experience a whole city than with its FOOD? Not much! Taste 'A Bite of Seattle' with our interns!
Picture this: a park filled with families and friends, food stands that line the winding paths, and a swing band that gets groovy as spectators enjoy their IPA's under the warm July sun. This was the scene at the Bite of Seattle Food Festival, an annual three-day event where vendors from all over the city come out to showcase their goods!
At CuliNex, we are dedicated to continuous learning, so we couldn't resist a chance to get out and see all of the great things happening in our city's food industry… and of course try a few things along the way!

Hayley Bell
The festival features everything from foot-long corndogs to fine wine. You could travel the world in food with dishes from countries like Thailand, Germany, Greece, France, Russia, Hawaii, and more! "The Bite" serves as a forum for food trends like sriracha and tricks for micro brewing or a sworn way of cooking "the perfect salmon". With live music around every corner and set right under the picturesque Space Needle, this is the perfect way to experience Seattle's foodie culture at its finest.
Some highlights from the weekend include:

Hayley Bell
The Alley
The Alley was a collection of tents that offered samples from renowned restaurants throughout the city, where $10 bought you a lunch and a drink! This is often the most anticipated stop of the festival. The selection changed each day, so attendees went back to try it all again! What made it even better? All of the proceeds went to Food LifeLine, a non-profit that provides nutritious food to hungry, low-income families.

Hayley Bell
Craft Beer and Cider Tasting
Cheers! This feature of the festival was a spectacle in and of itself. The room was lined with local beer and cider vendors, all eager to provide samples of their finest brews. In addition to tasting tickets, attendees received a commemorative tasting cup. Some of the vendors included Aslan, Diamond Knot, Silver City, Stone, and Oscar Blues. There were some eye-catching and funky products, but the winner was a "Ginger Shandy" made by Alaskan Brewing Co.

Hayley Bell
Entertainment
There was something for everyone at the Bite of Seattle, including performances! There were dancers, comedians, karaoke, and The Reptile Man on the Family Fun Stage, plus jam bands, rockers, and acapella groups on the main stage! Never a dull moment.
Fallen in love with The Bite? Sign up to volunteer for next year! Volunteers work a couple of hours each day and gain access to the whole festival. This year, CuliNex's own Hannah Dressen was there serving up brews, ciders, and smiles.

Hayley Bell
CuliNex has been busy this summer! We have traveled far and wide to trade shows and conventions, all while developing clean label products and training three new interns. Check out more of our blog posts to read about our experiences and to meet the new members of the team!