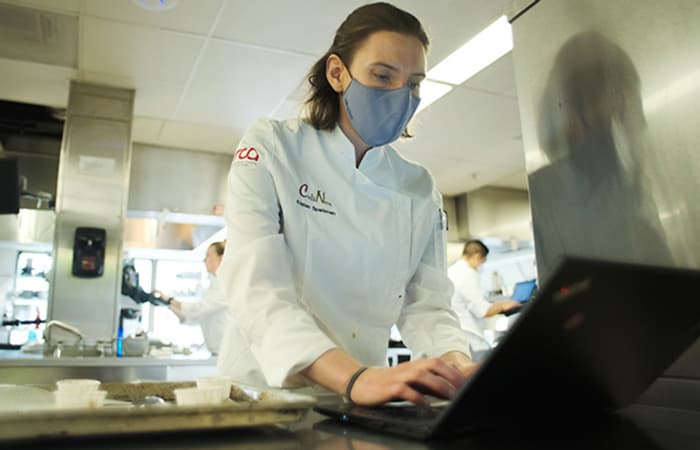 Product Development Relies on Information Technology and Security
The new year is off to a roaring start, and at CuliNEX we think about "What's Next" every day. We are continually refining how we do our work. After all, continuous improvement is built into our mission statement!
Our company was founded by Mark Crowell in 2005 and it now includes many product development and innovation professionals with a variety of culinary and food science backgrounds and specializations. They share one trait though; they are all foodies! But we recognize the role information technology (IT) plays in our daily work.
From the start, the team held themselves to a high standard. Mark had learned early in the restaurant business that your reputation is everything. Product development is a complex endeavor, and consistently delighting clients means having systems, processes, and best practices in place that can be taught to new employees. (And by the way, we are almost always hiring!)
As the company grew, IT became more critical, and we haven't been afraid of testing and onboarding new software tools that make our work better and more efficient. Today technology systems serve as a repository of institutional knowledge, hold databases, define workflows, manage timelines, allow us to all work collaboratively and most importantly, protect client's and CuliNEX intellectual property.
The company recently hired its first Chief Information Officers (CIO) to map IT strategy, oversee IT systems, and manage CuliNEX IT vendors. Security is always top of mind and CuliNEX recently underwent an extensive security audit by a third-party consultant to ensure all our systems were properly configured and protected.
IT Builds Resilience
Like most companies, managing through the dramatic work shifts caused by the COVID-19 pandemic, we are now collaborating with more remote employees.
For instance, during COVID, we had to reimagine how to do plant trials. By using mobile video equipment with live streaming capabilities, we were able to keep working without being physically onsite at plant trials. Keeping our development and commercialization projects moving forward required innovation and, yes, tech. This worked so well that remote plant visits are still an option if budgets are too tight to travel.
Growth requires an expanded talent pool to fill new roles and skill sets. The dramatic shift in work life allows us to attract and enable our employees to work from their home offices and our systems allow us to stay connected, while keeping our unique culture strong.
Our headquarters' staff finds scheduling "think and learn" days from their home offices a valuable way to maintain our mission for continuous learning. At CuliNEX, enabling our people to adapt and connect has certainly accelerated in the last couple years. Safe, reliable IT systems were instrumental in this shift.
Key IT Tools Support Great Work
Project management software is the backbone of our R&D operations. We have used our current software package for about 5 years and continue to refine its use. Providing exceptional project management is a hallmark of our product development delivery, and we couldn't deliver without this critical tool.
Microsoft 365 Business runs Teams, Sharepoint, Office, and the Power Platform (Power BI, Power Apps, Power Automate), all with the world class security of being housed in the MS Cloud. This platform provides information sharing that exponentially builds our capabilities as a team and delivers important project deliverables to clients, from innovative ideas, concepts, benchtop protocept through gold standard formulas. Across the organization, we are geeks about capturing team discussions, cataloging ingredient and vendor information, and building assets used by each of us to deliver excellence.
Contact management system is helping our Business Development team to develop and nurture our growing client base; refine our client journey and experience to match our expectation for service excellence.
We use other programs to power Accounting, Human Resources, Facilities Management, and every other facet of our business. IT is inescapable, but two themes have emerged in recent years that are neither inexpensive nor easy to solve.
The first is the ability to get different programs to share data with each other, particularly with the accounting system. Manual entry is error prone and slow.
The second is data visualization; the ability to present key information simply, in a way that makes sense to the user. This has been instrumental in projecting labor needs and forecasting future revenues and staffing needs. Information drives decisions and actions at CuliNEX, helping to sustain our company's rapid growth.
IT is a key enabler of growth for small companies like CuliNEX and it can be a substantial investment. Around here, IT security is non-negotiable. Done right, IT increases client satisfaction and their assurance that we are committed to leveraging technology to continuously improve, while working in a secure environment. In the end, our people are dedicated to finding and using the tools to deliver for our growing list of clients.

We put clients first - want to continue the conversation? Reach out to our team. We are happy to share more about how we rely on IT at CuliNEX. After all, "What's Next" around here is what matters.