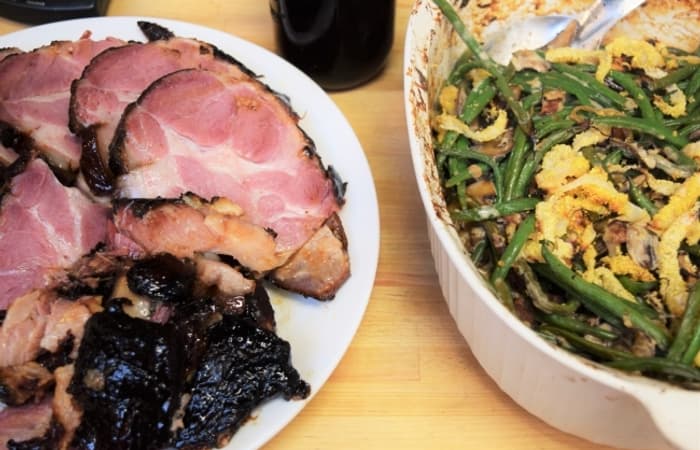 Family Meal: Thanksgiving
Every year before we break away for a long holiday weekend, we gather together as a team to enjoy a Thanksgiving meal in our test kitchen. This year's theme was decidedly boozy*, with all dishes being inspired by the most festive of libations: beer, wine and spirits.

Lesley started off the meal with warm mugs of spicy Mulled Red Wine, scented with orange zest, ginger, cinnamon, cloves, star anise, black pepper and plenty of brandy.
The centerpiece was a homemade Sherry-Glazed Honey Ham, prepared in our very own test Kitchen by Anne-marie. The hams were injected with a honey brine and then smoked for 5 hours until they were tender and smoky throughout. Then a cross-hatch pattern was cut into the skin for a luscious, sweet glaze to caramelize onto all the nooks and crannies. Fret not, we'll feature the ham class details in an upcoming post.
To accompany the ham, Emily made a Port Cherry Cranberry Jam, with fresh and dried cranberries, dried cherries and a whole bottle of ruby port!
Katie brought an upscale take to the classic Green Bean Casserole: fresh green beans and mushrooms in a rich, creamy sauce topped with beer battered cornmeal "fried" onion rings and beer-brown sugar candied bacon; definitely NOT like Grandma used to make.
Eric, the newest member of the CuliNex team showed off his culinary skills with an impressive Rum Sweet Potato Soufflé, topped with toasted mini marshmallows. The light and fluffy base was made with roasted sweet potatoes, flavored with cinnamon, nutmeg, cardamom and a lot of rum. He's only an intern, but watch out!
No Thanksgiving spread is complete without the Stuffing, and Mark did not disappoint. His rich and moist dish was made with locally-produced spicy Italian fennel sausage, onions and celery for aromatics, and country bread bound with eggs and chicken stock. It was baked until crispy on top and then finished with a flambé of 12 year aged whiskey, because, why not?

We thought our meal couldn't get any better, until our CEO (Chief Enablement Officer) Webb brought out dessert: Not Your Father's Root Beer Ice Cream Floats! He scooped homemade Strachiatella ice cream, vanilla with tons of chocolate flakes into cups and then let us pour the spiked root beer over top for a creamy, fizzy, sweet finish to our meal.

From our test kitchen to yours, we hope your Thanksgiving was tasty and bountiful!


*While we love a festive family meal, CuliNex encourages drinking (and eating) responsibly, especially at work.