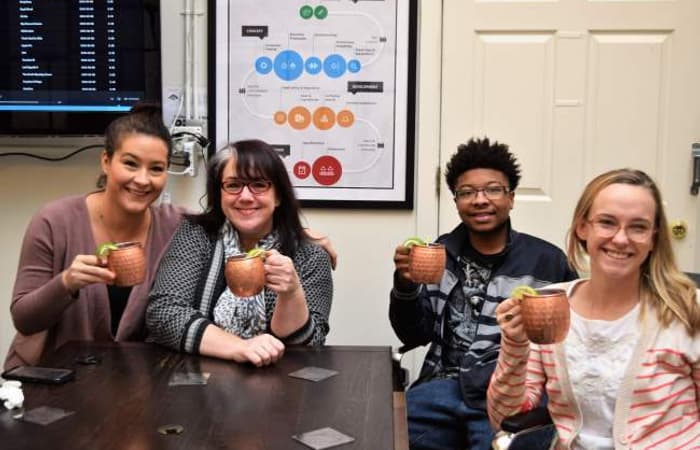 Family Meal: Boozegiving—The Best Kind of Thanksgiving Dinner
We love all the traditional Thanksgiving dishes, so what could possibly make them any better? Easy, adding a boozy component! For the second year running, we present to you our creations for our CuliNEX Thanksgiving family meal.
The rules were simple: each team member drew a dish from a hat and was then tasked with enhancing and booze-ifying their dish using their choice of beer, wine, or liquor. It's a tough life we live at CuliNEX, to be sure.  

Emily Munday
 Smoked Turkey with Bourbon Gravy
"Turkey legs and wings were brined and cured then smoked in the Traeger smoker with apple and alder wood for 3 hours. The breast was deboned, then the halves were seasoned with lemon-sage salt and tied into a roulade. It was then refrigerated and dry cured for 30 hours before being placed in the sous vide for 2.5 hours at 145°F." – Mark Crowell
Brandied Sweet Potato Gratin
"This is a really easy dish I make every Thanksgiving and people go crazy for it. It's that little bit of sweet on the dinner plate! I just thinly slice the sweet potatoes and layer them in a casserole, seasoning each layer with salt, pepper, and dried, rubbed sage.  Then I reduce about a quarter cup of brandy over medium heat, add a cup or so of cream and a cinnamon stick and let that steep for about 30 minutes.  The cream goes over the sweet potatoes, the whole thing is covered in a classic streusel topping and then baked for 45-60 minutes in a 350°F oven."  – Anne-marie Ramo

Emily Munday
Shaved Brussels Sprouts with Aged Cheddar & Hard Cider Vinaigrette
"Inspired by the classic pairing of apples and cheddar, I set out to create a veggie dish with maximum flavor potential. I simmered local Seattle Cider Company semi-sweet apple cider down until syrupy, then added a shot of Jameson whiskey for good measure; this became the base of a bright vinaigrette with Dijon mustard, lemon juice, garlic, and olive oil. The vehicle for this boozy dressing was a tangle of shredded Brussels sprouts, thinly sliced shallots and julienned Fuji apples, flecked with toasted almonds and accented with aged sharp cheddar cheese." – Emily Munday
Bacon & Jack Daniels Stuffing
"Bacon, granny smith apples, onions, and celery sautéed with a healthy amount of Jack Daniels Whiskey, sage and thyme. There may or may not have been, but definitely was, some help from Stovetop Stuffing due to time limitations." – Hayley Bell

Emily Munday
Sherry-Glazed Carrots
"Sweet orange carrots cooked sous vide with butter and orange peel for a tender - not mushy - texture, then glazed with Bourbon and a splash of Sherry." – Lesley Werblin
Garlic Beer Cheese Knots
"A smooth and well-balanced winter porter from Iron Horse Brewery called Irish Death was smuggled from the test kitchen in order to make these delicious rolls! Fresh garlic, rosemary, the local Seattle beer, and Oregon Tillamook Sharp Cheddar Cheese gave the heavy, but delicious rolls their grainy and garlic-y flavor. They were finished off with a sprinkling of cheddar and some rolls were also stuffed for a "cheesy roulette" surprise." –Hannah Dressen

Emily Munday
Cranberry Moscow Mule
"I poured a crisp, tart, but sweet Cranberry Moscow Mule made with Seattle's best Rachel's Ginger Beer, cranberry juice, and Vodka topped with a lime slice and sugared cranberries into our new copper mugs." – Katie Langel

Emily Munday
And for dessert…
Rum-Laced Sticky Toffee Pudding
"Sticky Toffee Pudding, not a pudding in the American sense, but in the British sense. It is a steamed sponge cake made with chopped dates and topped with a toffee sauce. To add to Boozegiving, the toffee sauce was laced with a tiny, but very noticeable, amount of rum." –Webb Girard

Emily Munday

Happy Holidays from the CuliNEX Team! Cheers!