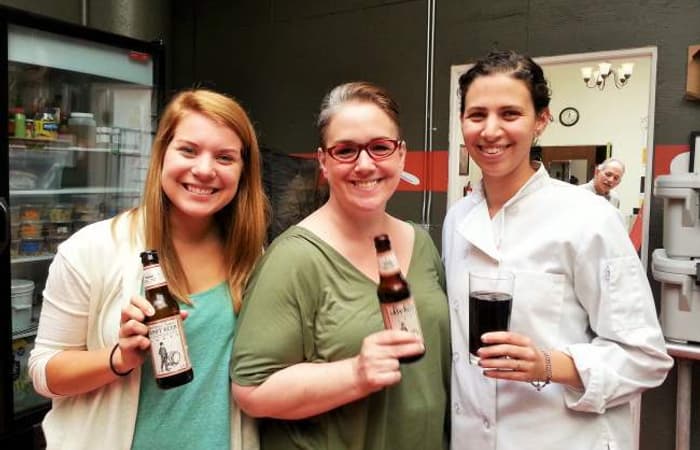 CuliNEX Intern Program Gets Bigger and Better in 2017
It's hard to believe that only three short years ago, CuliNEX was a rag-tag team of three, with just the beginnings of a strong organization under its belt.  Fast forward to 2017 and our team is now 10 people strong and growing! As the primary mentor/trainer at CuliNEX, it does me proud to look at the team and realize that over half of our staff started their career as an intern here at CuliNEX.  We have no plans to slow down and in 2017, we'll be bringing even more graduates to Seattle to teach them the CuliNEX ways and mold them into world class Culinologists. 
A Quick Look Back – Past Interns
CuliNEX began their internship program in 2014 and brought our first intern, Brianna Briggs in that summer. We realized after our first intern experience that we had something good going and decided to experiment with the idea of running all new employees through our Intern Program or "intern-to-hire" (now known as contract-to-hire) program. So, the "trainee" program was born and runs parallel to our typical Summer Intern Program. 

Mark Crowell
This newly developed program is for the recent graduate who is looking for their first R&D position. They join us in Seattle for an intensive 3-month training program and if the fit works, they transition into a full time staff position with our stellar team. 
We've now successfully graduated four of our teammates through the program – Lesley, Katherine, Hayley, and Hannah all cut their teeth on this program and are now successful, highly productive members of our team. 

Emily Munday
A Look Ahead – Building on Our Success for a Fabulous Future
As we look ahead into 2017, we're excited to continue to grow our business, our service offerings and our outstanding team of Culinologists.  The intern program will undergo some upgrades and additions to improve our training program, get more of our team involved in the training process and ensure we continue to foster our reputation as an industry leader.  Interns coming into our training program this year will find a more robust training offering with more fun and lots of learning crammed into that 90-day period than ever before!

Emily Munday
Interns will not only learn the basics of product development but receive in-depth training on other services like Co-Packer Searches and Feasibility Studies.  We'll weave these into an over-arching Intern Project which puts each intern in charge of their own mini-product development project, from ideation through commercialization and all roads in-between. 

Emily Munday
Also up next for our interns – more time in the field and in manufacturing plants getting hands on experience in process methodology, GMPs and HAACP programs. This also mean more exposure to more of our fantastic team members earlier in the intern on-boarding process. 

Emily Munday
Such an amazing year in store for our Intern Program!  Interested in joining our team as an intern or contract-to-hire trainee?  Send us a cover letter telling is what "clean label" food means to you and your resume to us at teamawesome@culinex.biz.