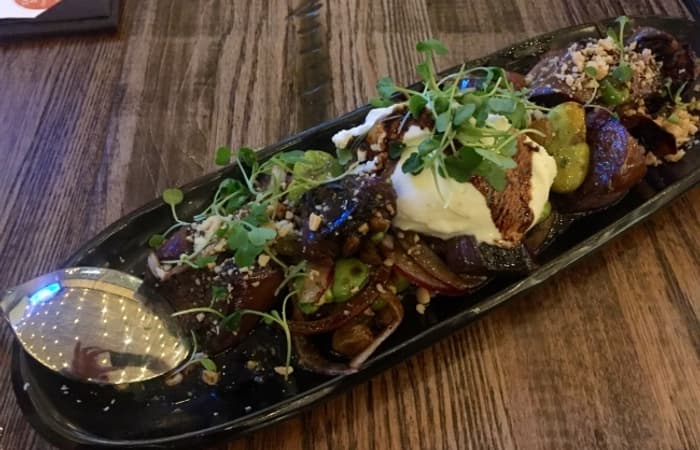 Culinary Research: Chicago
On Mark's recent trip to Chicago, he made the most of his time there by embarking upon a self-guided foodie tour of the city's tastiest establishments. Keeping up with trends in the food scene, from fine dining to fast casual and everything in between, is part of our job as culinologists. New flavor combinations, exotic ingredients from around the world, classics comfort dishes and old world techniques alike all shape the way Americans eat today. Our clients task us with translating those flavors into food products that anyone can experience, even when far, far away from windy city. 
Osteria Nico
Part of the One Off Restaurant Group, lead by Donnie Madia and Paul Kahan. They have bought Chicago some of it's most popular dining and drinking spots over the last decade - Blackbird, avec, The Publican, Big Star and Publican Quality Meats. Paul was awarded Outstanding Chef by the James Beard Foundation in 2013 and Best Chef in the Midwest in 2004. Chef de Cuisine Erling Wu-Bower's house-made pasta and impeccable seafood showcase farmer's and fishermen's bounty invoking the spirit of coastal Italy. 

Mark Crowell
Bohemian House
Chef Jimmy Papadopoulos has created an original menu of Bohemian-inspired fare with influences from the Czech Republic, Germany and Austria. The Chicken Paprikash was smoky and deeply satisfying plus they have a very interesting selection of beers.

Mark Crowell
Lyfe Kitchen
Lyfe Kitchen (the name is an acronym for Love Your Food Everyday), is a 14 unit chain with big ambitions and a hot retail brand in the frozen food case at retail. The company is lead by Mike Roberts, former president and chief operating officer of McDonald's. Lyfe's aim is to build a radically sustainable, healthy brand of fast food using organic ingredients, doing for responsibly grown meat and veggies what McDonald's did for factory-farmed beef - thanks to the efficiencies of supply–chain management he knows so well. Menu development was lead by two of Oprah's celebrity chefs, Art Smith and Tal Ronnen. The results we ate at breakfast were excellent and I want to go back and try lunch and dinner.

Mark Crowell
Stan's Donuts
Started in 1963, Stan's Donuts has been a mainstay of Westwood Village in Los Angeles, California. The original location has happily served everyone from Hollywood royalty such as Elizabeth Taylor, Steve McQueen, and Ali McGraw to hungry UCLA students looking to fuel all-night study benders. Rich Labriola, president of the Labriola Baking Company, partnered with Stan Berman, founder of Stan's Donuts, to bring the more than 50-year-old donut shop to the Midwest. Who doesn't love a Nutella filled donut?

Mark Crowell
Latinicity 
Created Chef Richard Sandoval, Latinicity provides a delicious twist on Latin street food. Located on the third floor of Block 37 shopping mall, this multi-sensory experience features 10 innovative kitchens, a tapas restaurant, coffee café, full bar, market and lounge. A truly unique dining experience, Latinicity brings the flavors of Latin America, Spain and Portugal to the heart of Chicago.

Mark Crowell
Mark Crowell
Le Pain Quotidien
The first Le Pain Quotidien (Daily bread) opened in Brussels in 1990, and within a few months 10 more locations opened, all serving the classic, rustic loaves Alain Coumont grew up with. Seven years later, Alain's dream to open in the United States was realized with a flagship bakery on Madison Avenue in New York City, and now, his vision of fresh-baked, traditionally made bread has become a tradition for neighbors and friends at 200 Le Pain Quotidien locations throughout the world.

Mark Crowell
Cumin
Cumin features modern Nepalese and Indian cuisine. Their dishes offered beautifully balanced, exotic flavors. Essentially similar in cooking method and taste, Nepalese food is milder than Indian food and does not use any dairy products in their preparation. The tandoor, a barrel-shaped oven, is used to cook most of the meat. Lesser known Nepalese dishes such as Gorkhali Khasi (bone-in goat meat cooked in rich Nepalese spices), Aalu Tama ra Bodi (potatoes, bamboo shoots and black-eyes peas), Namche Bazako Sekuwa (chunks of marinated boneless goat meat cooked in Tandoor) are featured along side the more familiar Indian dishes such as Chicken Tikka Masala (boneless chicken marinated and cooked in Tandoor simmered in rich curry sauce), Paneer Aalu Gobhi Chilli Masala (cottage cheese cooked with potatoes, cauliflower florets and peppers in rich curry sauce) and Chicken Vindaloo (chicken and potatoes cooked in hot and tangy sauce).
Qung Xiang Yuan Dumpling 
Soup dumplings, or xiao long bao, are a specialty of Taiwan and still seldom seen in the U.S. It's not easy to produce the little bundles of love well. With delicate wrappers that maintain the strength to hold their precious liquid cargo long enough to be nibbled and slurped, they can't be held long and must be hand made. The best I've found are made by Din Tai Fung which has U.S. branches in California, Seattle and Bellevue, WA. Qung doesn't make xiao long bao, but they do make guan tang jiao zi, or "soup-filled dumplings," a pot-sticker-size variant of xiao long bao. You really can't go wrong here. For less than $15.00 per person you can feast on 23 different types of soup dumplings. 

Mark Crowell
Eataly
Let there be no mistake, Eataly Chicago is big. With 63,000 square feet of space, dozens upon dozens of aisles of groceries, and 22 (or so) different restaurants and bars, it is literally enormous. But the most surprising aspect of the second domestic location of this Italian superstore is that it also genuinely wants to be the best. This is no dumbed down Italian theme park. The quality of everything, from the delicate handmade pasta and crusty bread to the impeccably fresh fish and dry-aged beef, is astonishingly high. 

Mark Crowell

Mark Crowell
Shake Shack
To call Shake Shack a phenomenon does not do it justice. In 2015 it went public in an IPO that ballooned to $1.6 billion — cementing the brand's journey from a one-off boutique stand in New York's Madison Square Park to a multinational burger titan with restaurants reaching Moscow, Istanbul, and Dubai. The food is good, very good. What you would expect from Danny Meyer, one of the smartest people in the business. The Chicago menu featured local touches and even used products from several other well known local brands.  
Tanta
Tanta, is easily Chicago's most accomplished Peruvian restaurant, elevating the cuisine — a melting pot that claims Chinese, Japanese, Spanish, African and ancient Incan influences — to the level of fine dining.  Gaston Acurio, the internationally renowned chef who owns Tanta, has made this elevation his life's work. He operates more than 30 Peruvian restaurant in 12 countries, including Astrid y Gaston, his world-class restaurant in Lima, Peru (currently No. 14 on the World's 50 Best Restaurants list; for purposes of comparison, Alinea is No. 15). Factor in his 20 cookbooks and media appearances, and it's fair to view Acurio as his nation's culinary prophet. To be clear, Tanta is not comparable to Alinea; it's no Astrid y Gaston. It's a casual, approachable concept, much like his La Mar restaurant in San Francisco. Tanta is essentially Peruvian 101, a restaurant that provides a very enjoyable introduction to the cuisine.

Mark Crowell

Mark Crowell
BellyQ
The latest restaurant from innovative Chicago chef Bill Kim (Belly Shack and UrbanBelly), is an exciting new concept featuring Asian barbecue and seasonal, locally farmed ingredients. It showcases Chef Kim's culinary talents with flavors that are rooted in tradition yet decidedly modern in taste and execution. Expect a menu that's smoky and bright, spicy and clean, surprising yet comforting – and how about that frozen Kirin!

Beatrix
Beatrix is an inviting neighborhood restaurant, cafe and meeting place operated by the ever reliable Lettuce Entertain You Enterprises (LEYE). LEYE has more than 90 restaurants and almost as many concepts. Beatrix menu features healthful cooking, vegetarian entrees and comfort food dishes. The coffee bar showcases iconic Chicago roasters and pastries from the in-house bakery. I had my first Bullet coffee here. Not bad.