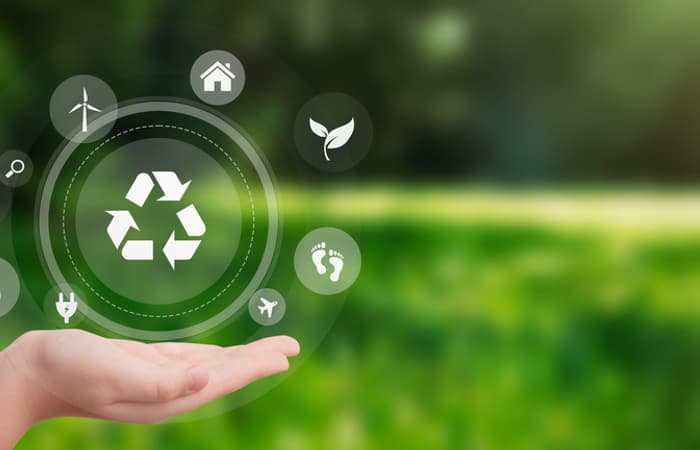 Creating Earth Friendly Foods
It's no secret our resource-intensive food system impacts the planet. From farming practices to food packaging to food waste, every corner of the food industry is ripe for innovation when it comes to sustainability. Developing planet-friendly foods is a topic we talk about a lot in the CuliNEX test kitchens, and we're always thinking about how we can make a bigger environmental impact as product developers. It's actually part of our mission — to create a better planet, healthier people, happier communities. 
From the beginning at CuliNEX, we were focused on clean label food products, back in 2005 when it wasn't the norm. These conversations are hard, and we are actively working to learn and contribute as the industry evolves.

From regenerative agriculture to tackling food waste, the good news is that there's so much opportunity ahead and there are many inspiring initiatives happening across our industry. Here, we share a few of the sustainability issues that are top of mind for our team and clients this year.
Food Sustainability Efforts that Inspire
Renewable Energy Initiatives
How can we make a difference in each phase of food manufacturing? It takes a lot of energy to create, manufacture, and package food products. Agriculture, transportation, processing, handling…there are several aspects that add up to a massive amount of energy being used to produce food worldwide, but especially here in the U.S.
Energy that is naturally replenished is becoming a core consideration for ambitious and forward-thinking companies. Food and agriculture companies are beginning to invest in renewable energy sources like Sierra Nevada Brewing Company's LEED-certified Platinum brewery. Stahlbush Island Farms right here in Oregon is a sustainability leader, generating electricity for their processing plant from corn husks and cobs using biogas, a "waste-to-energy" system that breaks down organic matter such as food scraps. Bill Chambers, an owner of Stahlbush, is known for saying, "There is no such thing as waste, only underutilized resources." We agree, Bill!
Technologically advanced farming projects like the Oishii strawberry facility in New Jersey are cropping up, too. They are growing large volumes of high-quality, pesticide-free fruit right just outside of Manhattan in a repurposed Anheuser-Busch factory, reducing the transportation footprint and inspiring a fresh look at large-scale urban farming.
Improved Soil Health
At Natural Products Expo West this year, we spoke to several major ingredient suppliers extensively about the size and breadth of their emerging regenerative agriculture divisions, which got us really excited. Certainly it's just a small start compared to what's needed to support the entire food manufacturing industry with a more resilient approach to food and farming systems, but it's encouraging to see colleagues taking those first steps in the right direction. Carbon dioxide drawdown, improved soil fertility, preserved biodiversity, and an overall healthier natural ecosystem are just a few benefits of this traditional land management practice.
While we have created exciting products for small, emerging brands using regenerative agriculture ingredients, we are anxious to see a growing supply of ingredients to fulfill the supply chain needs of a mid to large food manufacturer. That scale will begin to provide measurable impacts. We talk with our clients about the challenges using single-origin ingredients and regenerative agriculture products can often be coming from one single source, or farmer. That is hard to scale.
The Upcycling Movement
Food production is a big part of the problem, but it can also be the solution. The upcycling discussion is new and exciting for us. One of our earliest clients looked for application studies using a green banana flour. Application exploration like this is a way that food companies can meet consumer expectations, and a way for producers to mitigate costs. Reducing waste with spent grain, vanilla beans, hulls and shells, fruit rinds, coffee grounds, and much more can be a cost saver that's also sustainable. 
These upcycled ingredients are still in small supply, though we're seeing big efforts to move this initiative forward, especially by the Upcycled Food Association. We are members of the association and love their recent post asking that we stop seeing upcycling as a trend, because it's here to stay. Upcycling is a movement that will help bring waste streams to their highest and best use. We're excited to be along for the ride.
Our Biggest Food Sustainability Challenges
Beating Plastic Pollution
Plastic is a giant part of our industry. According to the United Nations, approximately 36 percent of all plastics produced are used in packaging, including single-use plastic products for food and beverage containers, much of it entering the global ocean as litter or microplastics. Eighty-five percent of that ends up in landfills or as unregulated waste.
We love Liquid Death's marketing strategy to "kill plastic pollution" with water bottled in aluminum cans, but we hope to see more product launches in that vein. Starbucks is piloting a reusable cup program, and Panera has committed to transition to 100 percent circular reusable, recyclable, compostable packaging by 2025 — exciting efforts by mainstream brands. Still, Covid created an increased demand for single-use plastic and many see this as an out-of-control problem that will require a robust systemic approach.
What are the best solutions? How can we help to stem the growth of plastics? We are constantly looking for new packaging solutions at trade shows and when working with clients and manufacturers and know the industry has big strides to make. What are the most promising solutions?
The Supply Chain and Sustainable Ingredient Sourcing
There's consumer interest in sustainability. But food developers are always looking at the balance between cost and volume. The temptation is always to reduce costs. And the reality is that the ingredients we use in our formulas must be feasible.
Unfortunately, many sustainable ingredients are not yet an available for some new products because there's not yet a reliable source. More investment by ingredient manufacturers and demand by mid to large manufacturers is needed to move the industry forward, faster. Until that supply of upcycled or regenerative ingredients is big enough, it's going to be hard to formulate with them from our perspective.
This is not different from the supply challenges and premiums charged for organic ingredients in past years. Just as the organic sector scaled and research and tax credits were infused by government action, we will watch for growth and price reductions for upcycled and sustainable ingredients as consumer demand increases.
Education and Awareness
We certainly see strong marketing based on sustainability messages. In our exploration, more than half of the brands at Natural Products Expo West were positioning with a mission of sustainability. It's a good idea to develop transparency and trust with consumers when it comes to environmental issues, which are a global concern.
Accreditation for sustainability is emerging with several organizations working to feature their stamp showing a brand is making strides to reduce their carbon footprint, increase their regenerative ingredients, employ more local ingredients, and source from regions protecting workers. Certifications like these can be expensive and may be slow to be widely understood by consumers, but these organizations will also take a leading role in educating consumers about their food choices. Looking to the future, we would love to see more initiatives that help consumers understand their personal environmental impact. What if they could somehow measure their household's food-based emissions?
Working Toward Solutions
The hard truth is that going green isn't easy when it comes to new product development. Many of the solutions we look forward to leveraging are just in their infancy. We have to find the balance for our clients, making each product feasible — and profitable. Clients bring guardrails to us, and any number of things can get in the way when making tradeoffs with ingredients, practices, packaging, and more. However, a shared motivation for eco-friendly foods is a good place to start, and we learn more each day.
We're excited to be working at a time when the industry is on the frontier of sustainable food, as we believe that thoughtful high-scale food production and sustainability can co-exist. It wasn't easy leading the way with clean label food formulation and that didn't stop us back in 2005.
The theme for this year's Earth Day celebration is "Invest in Our Planet." It's a tagline that rings true for the food industry as we assess if we are taking the right steps to invest in our industry's future. We have a long way to go. How can we do it all? And how fast can we get there?
The CuliNEX team is eager to take food sustainability efforts to new heights. What can we achieve together? Send us your ideas at [email]. We'd love to hear from you!