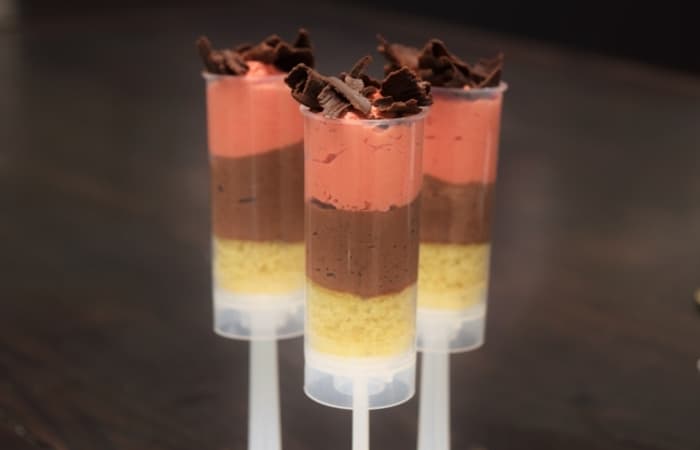 BCFT Food Scientists Spotlight: Webb Girard & Katherine Langel
The biggest event of the year for food technologists highlighted the latest and greatest in ingredients, research and technology.
The 2016 National Institute of Food Technologists Meeting & Food Expo is always a highlight of the CuliNex trade show season. This year we were there to support one of our clients, the American Egg Board (AEB), to provide technical guidance to attendees on research we conducted over the last year and to serve up delicious samples featuring real egg ingredients. We also relished at the chance to walk the Expo show floor, to see the latest and greatest in ingredient and technology innovations.
The fun concepts we created for the AEB to showcase the functionality of eggs included:

Emily Munday
Blood Orange & Chocolate Push Pops
A fun and decadent push pop filled with layers of sponge cake, bittersweet chocolate mousse, and white chocolate blood orange mousse all topped off with dark chocolate curls. In this concept, real eggs contribute:
Creaminess, emulsification, thickening, richness, aeration (Mousse)
Aeration, emulsification, structure, flavor, color/browning (Sponge Cake)


Emily Munday
Key Lime Cookie Cups
The classic Key Lime Pie is transformed into a cute, bite-sized dessert, with rich lime curd-filled sugar cookie cups topped with a light and fluffy mini marshmallow. Real eggs offer the following functionality benefits:
Aeration, emulsification, structure, browning/color, flavor (Cookie Cups)
Creaminess, emulsification, thickening, richness (Curd)
Aeration, structure (Marshmallow)

Emily Munday
Dulce de Leche Pudding & Pepita Crunch
Decadent caramel dulce de leche pudding topped with a crisp, cinnamon and chipotle-spiced pepita and toasted coconut crunch topping. Real eggs make this concept a winner, offering:
Creaminess, emulsification, thickening, richness (Pudding)
Adhesion, crisping, browning (Topping)

Lesley Werblin
The CuliNex team made each tasty sample in our Seattle Test Kitchen resulting in easy to prep-and-serve concepts for the AEB staff at the show in Chicago.
Ingredient Functionality Research
Over the last year, CuliNex has conducted extensive research on behalf of the AEB to compare the functionality of egg replacers to real eggs in a variety of bakery applications to help food manufacturers understand the functional benefits of egg ingredients. Information about the egg replacers tested and the results can be found at http://www.realeggs.org/, including research report summaries.

Lesley Werblin
Need help conducting research on your ingredient or product? Need marketing and sales support for the next trade show? Get in touch!