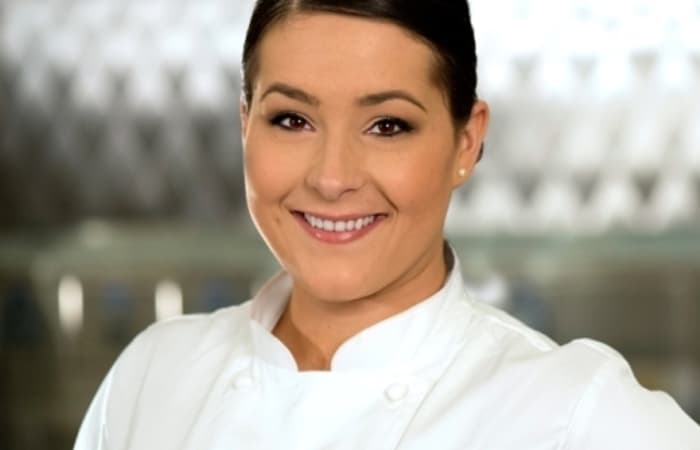 A Day in the Life of a Culinologist: Emily Munday
What exactly does a Culinologist do all day? Find out what our own Emily Munday does to keep projects running smoothly. 
What's your role at CuliNEX?
I started at CuliNEX over 5 years ago as a young culinary grad and worked my way up as one of our project managers. My official title is Culinologist/Nutritionist, but I'm also our "Social Media Butterfly", heading up the sales and marketing initiatives. I like to dabble in a little bit of everything!


To start your morning: coffee or tea?
I drink black coffee all day long, but if I'm feeling fancy I'll top it off with some half & half. Around 2pm I'll crack open an icy cold La Croix sparkling water (like any good hipster Seattleite); grapefruit and passionfruit are my favorites.

Emily Munday
What's a typical day look like for you?
As one of our project managers, I spend a lot of time communicating with our clients and developers on the status of projects, creating design of experiments, revising formulas, tracking down documents, and generally cracking the figurative whip! I also lead our sales and marketing efforts at trade shows, events, and keep our website and social media activity going. Excel is my frenemy.

Emily Munday
What kinds of projects are you working on right now?
One of our clients is the American Egg Board, and I've been working on functional research, recipe development, training workshops and trade show education sessions to support their mission of educating the food industry on the functional benefits of real eggs. To say the least, I make a mean omelet.

Patrick McDonough
What's your favorite part of the development process?
I love helping clients funnel their dreams into actionable concepts ready for the bench. To stay up to date on consumer trends, I read a lot of industry publications, foodie blogs, and watch a ton of videos. Leading ideation sessions and writing concepts is something I feel passionate about, but there's nothing like sending a client prototype samples that they love.
What's the best part of your job?
Well this is an easy question, the best part of my job is working with an awesome team! We work hard to create great company culture at CuliNex, and that involves a lot of cooking competitions, family meals, coffee breaks (in the Swedish tradition of "fika"), education sessions and beer drinking. We genuinely care about each other, and that makes me excited to come to work every morning.

Mark Crowell
What do you snack on at work?
If you know anything about sensory science, you'll understand when I say that I'm a "cruncher". I love yogurt with granola, raw fruit and veggies, nuts, anything with a satisfying crispy crunch (much to my desk-mate Lesley's chagrin).
What's your "secret" for efficient benchtop development?
While there's no magic bullet product development shortcuts, one of the keys to efficient development is to have a robust design of experiment before ever setting foot on the bench. That means understanding all the project parameters, researching ingredients and processing technologies, and considering how each ingredient and processing step impacts a formula. Setting a clear goal and taking good notes along the way are vital. It's all in the details!

Emily Munday
Outside of the office, what do you do for fun?
This may sound weird, but I love grocery shopping, especially at Asian markets. Nothing gets me excited like fermented condiments, funky sauces without labels in English, obscure produce and fragrant spices. I also enjoy taking on ambitious baking projects, cold local brews, enjoying the beauty of the Pacific Northwest, and hanging with friends.

Emily Munday
To learn more about our team, check out the other posts in this series!