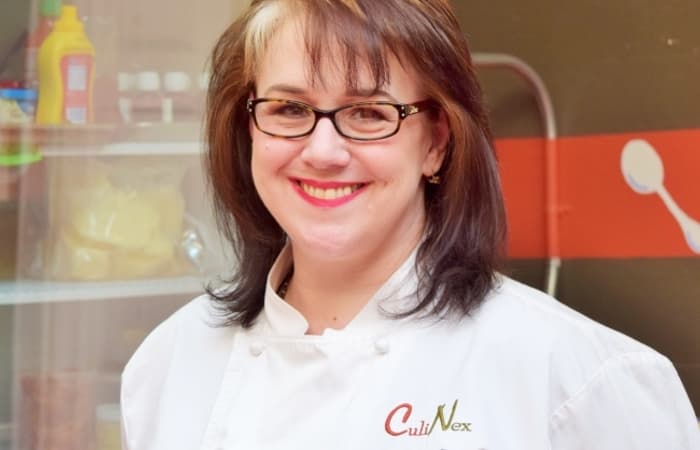 BCFT Food Scientists Spotlight: Webb Girard & Katherine Langel
Curious about what is it like to spend a day at CuliNex? Follow one of our project managers and Intern Auntie, Anne-marie, around the test kitchen to find out!

What's your role at CuliNex?
As with everyone here at CuliNex, I wear a bunch of hats. As a member of the leadership team, I work with my fellow team members to develop business strategy and company culture. As a project manager, I support teammates on the bench and interact with clients to ensure successful projects. As the Operations "Princess," I work with our team to develop systems and processes that keep our ship sailing smoothly.  Finally, the role for which I am proudest is my role as intern mentor, where I get to train and shape the minds of the Culonologists of the future!

Emily Munday
To start your morning: coffee or tea?
Coffee. All day long with the coffee. Do you have any coffee? I could use some coffee…coffee.
What's a typical day look like for you?
There is no such thing as typical at CuliNex!  My days vary based on the projects we have in house and whether or not we have interns on the team. Typically, my day is a mix of meetings, working on the bench and desk time to catch up on paperwork. When interns are in-house and in training, my time is devoted to getting them up to speed as quickly as possible.

Emily Munday
What kinds of projects are you working on right now?
Projects are ever-changing but at the moment, I am working on a salad dressing line, a baked good project, a meat project and we have THREE interns in-house right now! So, a lot of my time is spent with them.
What's your favorite part of the development process?
Ideation!  I love coming up with new food and flavor concepts that meet consumers' needs. 

Emily Munday
What's the best part of your job?
The best part of my job is passing knowledge on to others. At this point in my career, I am ready and able to give back to an industry that has been so good to me. I had a lot of great mentors that taught me so much about this wacky world of food and product development and I consider it a great honor to be able to pass that information on to a new generation of fabulous Culinologists.
What do you snack on at work?
Hmmmm…snacks…I don't really have a single go-to snack but if you open the snack drawer in my desk, you'll usually find some combination of nuts and nut butter, granola bars, beef jerky, oatmeal and cheese (okay, I keep the cheese in the fridge).  I also usually have veggies chopped up for munching on in there as well.

Emily Munday
What's your "secret" for efficient benchtop development?
Preparation. I typically spend a lot of time thinking through things before I even put pen to paper (or fingers to keypad as it were). I try to envision what is going to happen in the production facility and think through how I can replicate that on the bench. At CuliNex we develop gold standard formulas using commercial ingredients so there is a lot of thought that goes into w commercial ingredients that will best fit the product attributes goals.  If I'm working with someone else's formula, a similar mental preparation precedes hitting the bnech – reading all the way through the formula, reviewing the goals of the project or the product and asking relevant questions so I can make judgment calls and adjustments as I work.
Outside of the office, what do you do for fun?
I am a big movie and music fan so I spend a lot of time going to local shows. When I can, I catch live theater as well. Recently, I've discovered that I like Cross Fit so I am spending more and more time at the gym lifting heavy things and flipping tires. Of course, Seattle is a great food town so gathering with friends to cook and eat or hit a neighborhood restaurant is a weekly occurrence.

Emily Munday
For more information on our culinology internship program, check out our job posting or send Anne-marie a note at anne-marie@culinex.biz.