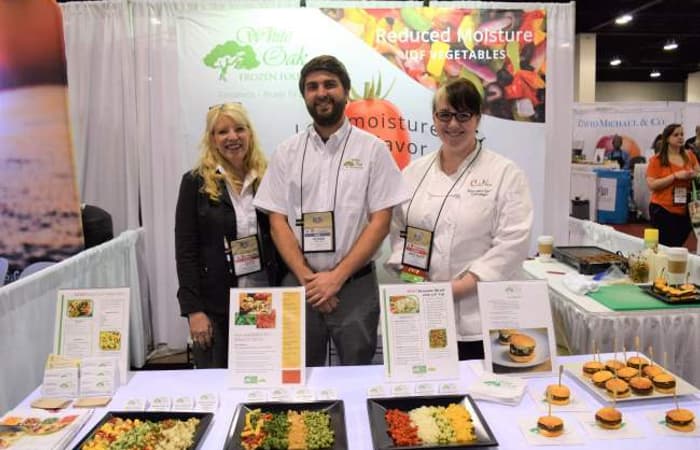 Tradeshows: Turn Sampling into Sales!
Trade shows are a lot of work, requiring much time and resources. How do you make sure you get a return on your investment? How do you stand out from the crowd in an endless sea of booths and smiling faces of sales reps? Step up your sampling game! 

Emily Munday
Most shows involve hours spent behind a table encouraging attendees to taste your wares and imagine them in completed products. Your sales pitch relies on capturing the imagination of the buyer, chef or developer in front of you. If you have the seventeenth tomato paste your potential client has tasted that day, you also have to contend with making your raw ingredient stand out from the sea of like items and like sales people making the same pitch, "Imagine if you will…"
At CuliNex, we think there's a better way.  We work with clients in the industrial ingredients sector that want to show more than tomatoes on a spoon. Don't get us wrong; there is absolute benefit to getting a customer to try your ingredient, pure and un-adulterated. However, how do you suppose the experience would change if a potential client walked up to your booth and sampled a delicious house-made sauce served over freshly made pasta showcasing your tomato product…or your garlic…or basil…or wine extract? 

Emily Munday
CuliNex provides Tradeshow Support Services designed to take your ingredient sales program to the next level.  Our developers start by sampling your raw, industrial ingredient and brainstorming a selection of recipes that fit your sales goals. Want to focus on a new business segment? Need to highlight functionality? Want to feature a newly developed ingredient? We take all of those considerations into our brainstorming session to create concepts that will directly meet your needs.  

Mark Crowell
After you've selected a concept, our team develops recipes specifically designed for trade show service—portable, easy to execute and clean up.  After we create your formulas, you have your pick of service level. You can opt in for full trade show support, where our staff shows up at your booth for set up and stays with you through the duration, preparing samples, selling product and assisting with tear down of your booth. If you don't want to hassle with prep work, but don't quite need someone there with you to cook and serve at the booth, we will cook, pack, and ship easy to assemble sample kits that allow you to quickly assemble and serve samples yourself. Still too much? We can also develop recipes and create step-by-step execution documents for you to set up, serve, and clean up all on your own.

Anne-marie Ramo
The results can be amazing. Our Tradeshow Support Customers typically see increased activity and interest at their booths with current and potential customers lingering a bit longer at the booth that appears to be at least one up on its competitors – YOURS! These longer conversations lead to deeper relationships, which we think, leads to better connections, lifetime customers, and increased sales.  

Looking to up your trade show game? Reach out to us and let's see what we can get cooking for you!