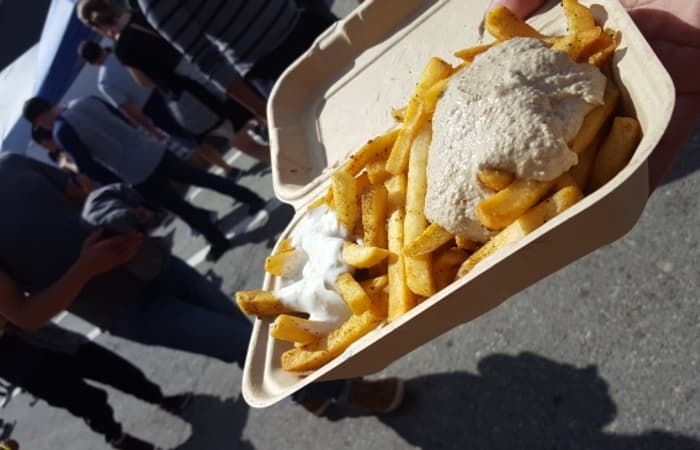 Street Food: Trends that Trickle Up the Food Chain
As a product development consultancy, we're always looking for culinary inspiration to keep ourselves up to date on industry trends. Recently, we found out about the Seattle Street Food Festival and it was an obvious excuse for some members of the CuliNEX team to make an excursion down to the action! It was the perfect opportunity to see what the restaurants and food trucks of the city had to offer.
Hannah Dressen
Believe it or not, the Seattle Street Food Festival is actually Seattle's largest independent food festival that showcases chefs, food trucks, pop-ups, and all things street food! Right under the nose of the Space Needle in South Lake Union, the festival showcases over 200 small businesses and spans across four city blocks.

Hannah Dressen
There were so many options at the event it was practically daunting; naan bread, donuts, stewed tripe, bacon mac and cheese, oyster po boys, beignets, cheesy grits, Japanese style hot dogs, gourmet crepes, Indian street food, Filipino lumpia, Korean bibimbap tacos, dumplings, and even deep fried peanut butter and jelly sandwiches!  But as professional eaters, we were up to the challenge.

Hannah Dressen
Our first pick was African Spicy Goat Meat with Vegan Fried Rice from Naija Buka. The goat was incredibly tender; it was difficult to pick up with a fork! The best part about Naija Buka was that she offered "bite-sized" portions for bite-sized prices. Rather than ordering an entire meal, food trucks could choose to sell half-sized portions so that customers could taste multiple offerings from a few booths without becoming full after just one meal.

Hannah Dressen
Our second choice pick was a Kabuly Pullaw meat combo from Afghan Delicious. This pop-up was the real deal! They had about ten workers in the back making fresh naan; mixing, rolling, stretching, and cooking it in their giant tandoori oven. Our dish included soft naan, fragrant rice with golden raisins and caramelized carrots, banjan, and chicken dupiaza. The banjan was roasted eggplant in a hearty spiced tomato sauce and chicken dupiaza was slow-cooked chicken with roasted onions and spices which paired exceptionally well with the fresh naan.

Hannah Dressen
How does one finish a day at the street food festival? At the beer tent of course! Our last stop was for some fries that were lovingly smothered in a creamy hummus and cooling tzatziki sauce.

Hannah Dressen
Hats off to the Street Food Festival, because this was one of the best beer tents I have ever seen. The grassy lot was easily half the size of the food truck area, and had every game of bags, life-size Jenga, ping pong, and ball game you could ask for, including a movie screening at night! Not to mention an art booth sponsored by Curate that was handing out free samples of their new line of granola bars. With beers and fries in hand, it was the perfect ending to our food-filled day!
For more information on how we stay on top of trends to help shape our product development, check out more of our blog posts!