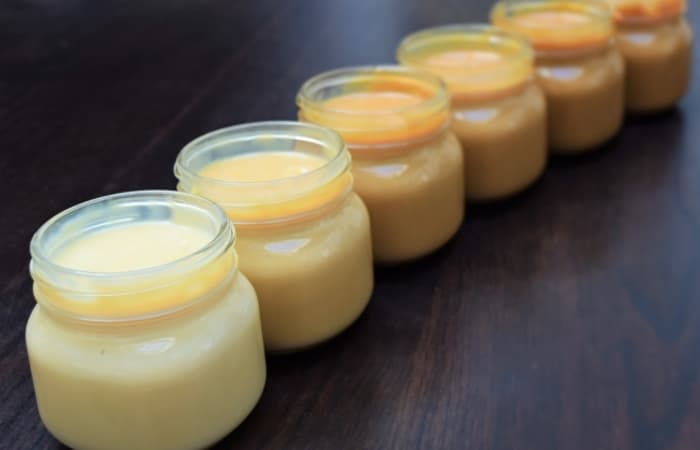 BCFT Food Scientists Spotlight: Webb Girard & Katherine Langel
Dulce de leche is the stuff dreams are made of; deeply rich and nutty, with a sweet caramel flavor and thick, unctuous texture. It is a South American treat made by slowly cooking sweetened condensed milk until the Maillard reaction occurs, which involves the interaction of free amino acids and reducing sugars in the presence of heat.
When recently tasked with making a dulce de leche drizzle sauce for a dessert project, the team and I set out on an experiment with slow cooking methods to see which technique would yield the best results and the most efficient process.

Lesley Werblin
The Problem
We started comparing different possible slow cooking methods for cans of sweetened condensed milk:
Simmering the can in water
Pressure cooking
Crockpot cooking
Dutch oven cooking
Pulling out the pressure cooker, filling with water and the dropping in the cans was by far the fastest method and resulted in a thick, rich, darkly colored dulce de leche. Only one problem: we wanted it to be drizzled on top of our dessert, and there was no way our pressure-cooked dulce de leche would ever drizzle.
So why not cook it less and pull out the cans before the milk had fully caramelized leaving us with a drizzle-able sauce? Perfect. One more problem: how would I know when the cans were perfectly caramelized, but still liquid enough to pour? Sous vide to the rescue!
The Test
We poured cans of dulce de leche into glass canning jars, set them in our sous vide water bath at 85°C (185°F, not quite a simmer) and let them cook for hours, pulling a jar every 2 hours for a total of 13+. Watching the sugars caramelize was very tempting, but we kept our spoons clean until the full time had passed.
Lesley Werblin
The Results
After opening all the jars, tasting each one and doing a drizzle-test, our preferred consistency for drizzling were the jars cooked for 9 hours which had a lovely oozy texture and rich caramel flavor. For a more traditional dulce de leche texture and color, the jars would need to continue cooking for another few hours, for a total of about 15.

Lesley Werblin
All in all, it was a great experiment and fun to see caramelization in action. Finding our perfect dulce de leche consistency was a success!