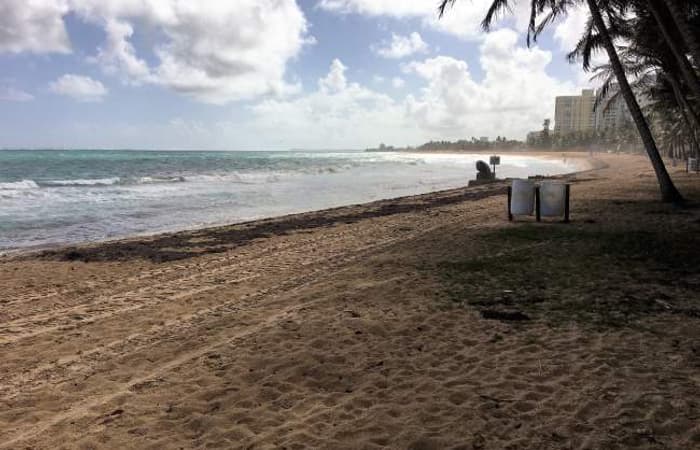 RCA 2017 Recap: Puerto Rico
Hola mis amigos! Interns, education, donations, food, fun, and sun filled this year's RCA 2017 in Puerto Rico, fue grandioso! Make yourself a mojito and drink up this recap on everything Culinology…
Wednesday
Winter storm Stella and a few flight cancellations later, we arrived at the conference a little tardy, but safely nevertheless. Upon arrival, we promptly made our way to the First-Time Attendee to network and collaborate with educators.

Mark Crowell
The Opening Reception was next, situated on the stunning Sheraton Pool Deck. It was quite the picturesque setting, complete with delicious food from local restaurants, including ceviche, tostones, and grilled squid. The specialty drinks, live entertainment, and infinity pool overlooking the bay made it a night to remember.

Mark Crowell

Mark Crowell
Thursday
After an inspiring keynote speech from Ali Bouzari, we snagged three signed copies of his new book, Ingredient: Unveiling the Essential Elements of Food, an inspirational read full of colorful illustrations. Then we turned our attention to the most important aspect of the conference, the Culinology Expo!

Mark Crowell
We were excited to prepare samples for the White Oak Frozen Foods booth, featuring their Reduced Moisture vegetable ingredients in a variety of applications. We created a Spicy Masala Veggie Burger chock full of fire-roasted cauliflower, red potato, and green chickpeas served on Garlic Cauliflower Naan Buns, topped with creamy Spinach Yogurt Spread, Green Garbanzo Mojito Chutney, along with fresh spinach and grilled paneer cheese. There were many returning tasters and positive comments about the burger, inspiring attendees to think about the numerous applications of White Oak's reduced moisture vegetables and unique offerings.

Emily Munday
Next up was the Town Hall Social where yours truly opened the discussion with background on the RCA Student Committee and their upcoming elections, along with the announcement of internship opportunities at CuliNEX. CuliNEX has two positions available this year, which can be read in full delicious detail here. We are extremely excited to be building the team in 2017 and love having the Town Hall Social as a resource for sourcing the best upcoming talent. Among other speakers were Phil Saneski from ReGrained, Kaitlin Mogentale from Pulp Pantry, and Ali Bouzari from Pilot R&D, who helped lead the conversation on food waste, internships, the role of marketing in R&D, and women in the food industry.

Emily Munday
Friday
CuliNEX founder and Principal Culinologist, Mark Crowell kicked off Friday morning's keynote speaker with the announcement of CuliNEX's Education Foundation donation and matching initiative. Education plays a vital role at CuliNEX, so much that we've included it in our mission statement and core values! Keeping along with that, CuliNEX donated $10,000 and matched $10,000 raised by other industry members. This donation is meant to bridge the gap between educators and their Culinology programs with the RCA, to help grow and strengthen the programs and empower the students.

Kimberly Schaub
With a little auctioneering help from Stephen Kalil, PepsiCo, we managed to raise an extra $12,000 from contributing RCA members, a successful morning indeed!

Kimberly Schaub
We ended our conference in traditional RCA style: with good food and celebration! Mofongo, tostones, and green beer (in honor of St. Patrick's Day) were among many of the delicious foods served at the awards ceremony that evening. We wish to extend our dearest congratulations to the new RCA President Jason Behrends, Tyson, and Presidential Award recipient and our good friend Kimberly Schaub, Bulletproof!
Emily Munday
Interested in being a CuliNEX Intern this summer?
Please send drop us a line at to teamawesome@culinex.biz and tell us why we should pick YOU! Please include your resume and a cover letter telling us what "clean label development" means to you. Until next year RCA, Adios!