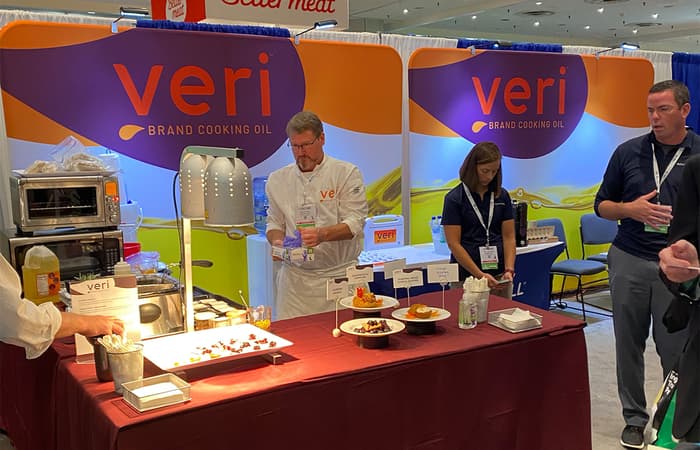 Our Plant-Based World Expo Takeaways
In an in-depth exploration of the constantly changing plant-based food market, Kathy Stephenson and Bret Lynch represented food product innovation experts CuliNEX at the second Plant-Based World Expo, held September 8–9, 2022 in New York City. This small but highly influential show highlighted the emerging and evolving plant-based market for a broad audience, providing learning and conversation for the many attendees.
Exhibitors included ingredient and equipment companies and service providers, as well as start-ups and established consumer brands. Although new, the conference and expo was a wild and comprehensive collection of all the things driving the industry's growth—a must see opportunity. Kudos to the Plant-Based Food Association (of which the CuliNEX team are supporting members) for growing this platform for the industry.
As cutting-edge innovators in plant-based and clean label food product development, the CuliNEX team found overarching themes worth sharing:
1. Heavy marketing of plant-based foods as "better"
Throughout the expo, backdrops, banners, and collateral proclaimed foods in the plant-based category to be "better choices" for consumers—better for health, better for the planet, better for growth in a new market. The CuliNEX team decided to delve deeper into this paradigm.
Discussions with marketers revealed that most legal advisors encourage brands to focus on the word "better" to call out differences between plant-based and traditional foods. This is because they perceive less risk of overstepping and overpromising what the product delivers. Perhaps this makes sense in light of the discovery that the products sampled didn't always deliver a better flavor—but that is a topic for a later discussion.
The attention-grabbing signage that focused on the "plant foods are better foods" messaging at the show was so pervasive that it was conspicuous in its absence when not highlighted by an exhibitor. It begs the question, will the trend continue as the market grows, or will new messages evolve?

2. Fermentation abounds 

Fermentation was the name of the game on every aisle and across most categories. Cultured, plant-based dairy replacements and plant-based proteins derived from complex ingredient processes abounded. Fermented ingredients found their way into burgers, chicken, and other "un-meatables." The conclusion? It's certain that aggressive technical development in the use of fermentation for developing flavorful plant proteins will continue, and our product developers are definitely along for the ride.

3. Off-shore brands are eager to enter the market

Visiting with exhibitors about their US market footprint reveled that a large percentage of first timers were seeking connections with food buyers. Their goal is to bring offshore innovations and brands to the US market. Our experts tasted frozen meals from Thailand, chicken nuggets from UK, fermented cheese from Korean, and dozens more intriguing products. The offerings were broad, presenting an opportunity to compare meatless burgers, plant-based cheeses and butter, and seafood analogs. This latter category had many entrants—definitely indicative of an emerging trend. A few proudly proclaimed their placement in major retailer operations, including Kroger, Walmart, and Sprouts. Not surprisingly, some of these mainstream supermarkets are proving to be among the more aggressive, plant-forward retailers mentioned.
Achieving great, enticing flavor is the name of our game, and a number of items rose to the top of our attention, including these exciting products:
The use of winter melon to create poke tuna bites from Finless Foods, Inc.
A delicious and really creamy, cream cheese spread from AME Nutritional Ingredients, LLC's Never Better Foods
A branded artichoke burger delivering great flavor and texture from Cutting Vedge, part of World Finer Foods, Inc.
Wicked Kitchen's line of plant-based ice cream was worth the wait
A mushroom-based bacon mimic with excellent sizzle from MyForest Foods Co.
Shout out to us to share a few of your favorite items from the show. We're listening and learning.