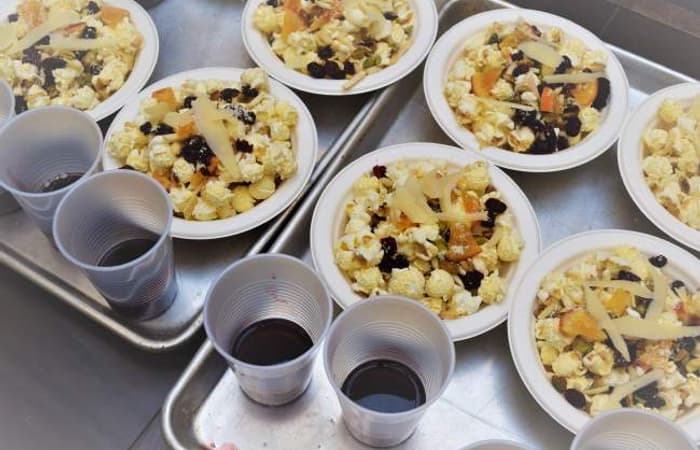 Perfect Popcorn Pairings - A Movie Night Challenge
Snacks account for over 40% of packaged food sales in the US according to Euromonitor, so it makes sense that we end up working on many snack projects at CuliNex. Snacking was the central theme at our most recent team culinary challenge, where teams competed to create the perfect flavored popcorn and beverage pairing. The stakes were high and voting was not taken lightly…

Emily Munday
Perfect Popcorn Pairings

Emily Munday
Bloody Mary's with Dill Pickle Popcorn – Hannah & Webb
Webb's dill pickle seasoning was right on par with the familiar dilly, briny, and crisp taste of fresh dill pickles with a snappy finish. The salty dill pickle popcorn paired well with the zesty and bright Bloody Mary, complete with a garnish of celery, lime wedge, and sprinkling of dill pickle seasoning.

Emily Munday

Emily Munday
You Had Me at Merlot – Lesley & Katie
Lesley and Katie created not only cheesy, but a classy version of a wine and cheese tray. They chose an oversize "mushroom" popcorn variety, known for its large, fluffy kernels. They tossed the popped corn with a white cheddar and parmesan cheese blend, sliced almonds, candied orange slices, cranberries, pistachios, and topped with more shaved parmesan. What better pairing than fruity, bold red wine from Yakima Valley.


Emily Munday
"We Don't Need No Stinking Badges" Mexican Chocolate Chile Popcorn & Winter Berry Sangria – Anne-marie & Hayley
Chocolate caramel coated popcorn with a little kick from cayenne, a subtle hint of cinnamon and added nuttiness from roasted pepitas. Paired with Hayley's Winter Berry Sangria, a fruity blend of red wine, triple sec, local berries and citrus.

Emily Munday

Emily Munday
Trump Corn and "The Great Wall" aka 'Merican Margarita – Mark & Emily
Don't eat angry!  Protect your right to eat anything you damn well please. This snack is neither PC nor healthy. The perfect pairing of genetically modified popcorn, Spicy Fritos chips, and good old fashioned cheddar cheese baked until crispy. Served up with 'Merican Margarita – a not so subtle mix of Mexican tequila, lemon lime soda, a splash of cranberry juice, and an orange-as-Trump's-coif clementine garnish—that you will pay for tomorrow, mark my words.

Emily Munday

Drum roll please….
The People's Favorite Popcorn Winner was a tie between Dill Pickle Popcorn, Trump Corn, and Mexican Chocolate Chile Corn. The Beverage Winner was hands down the "The Great Wall". And for the combination win according to the electoral college, Mexican Chocolate Chile Popcorn and Winter Berry Sangria!
We like to have a good time, especially when it involves food and a challenge! If you are interested in joining our rowdy crew, tell us why you are awesome and what 'clean label development' means to you! Send you response in your cover letter along with your resume to teamawesome@culinex.biz.