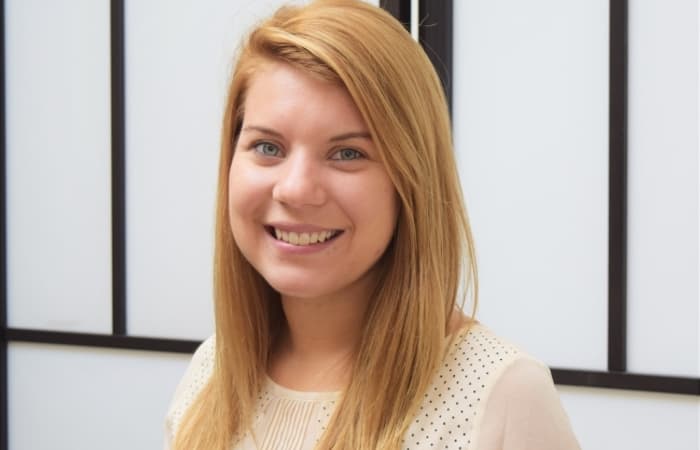 Meet Our Team: Katie Langel
Just who are those mad culinologists back in the test kitchen?! You've got questions and we've got answers. 
What inspired you to pursue a career in Culinology?
Initially, I didn't know what to expect when deciding to study Culinology at Southwest Minnesota State University. I did know that I loved food and wanted to learn as much as possible about it. It wasn't until after my organic chemistry class that I knew Culinology was the best fit for me. I enjoy being able to express my creativity while using my science skills to create exciting products. My professor, Dr. Michael Cheng, inspired me to keep learning, do my best, and find what makes me happy.

What excites you about working for CuliNex?
Not only am I excited to live in beautiful Seattle, but I am also excited about all the opportunities CuliNex provides. I am gaining hands-on experience in developing products from start to finish, marketing and researching, and multitasking between projects. I am excited to share my love for healthy food with alike foodies and companies that support clean labeling.
What's your favorite foodie city?
My favorite foodie city is Washington D.C. because it is filled with delicious food from all over the world. My favorites are Thai, Indian, Vietnamese, and Moroccan. D.C. is also filled with doughnuts. Yup, doughnuts! I participated in the Annual DC Donut Crawl, which is a group bike ride in search for the best doughnut shops in the D.C. area. The crazy, scratch your head type of flavors can be found around D.C. and I promise you, they are worth the calories!
What food trend interests you the most?
There are a lot of food trends that I am guilty of being a follower—the cupcake, frozen yogurt, green smoothies, and quinoa craze. Along with those fun trends, I am also interested in sustainable, locally grown and nutritious foods that are good for you and taste great.
People should eat more:
Veggies! I sound like my mom—yikes! I've recently developed a love for grilled or sautéed veggies. There are so many benefits to eating vegetables and there are endless ways to make them tasty, such as dipping them in hummus or peanut butter. My favorite veggies are yellow squash, zucchini, red peppers, and green beans. Of course, freshly picked vegetables from the garden are the best!
When you're not cooking you're:
Exploring or sweating! I love traveling to see new sights and try new foods. I traveled around Southeast Asia to ride elephants, swim under waterfalls, scuba dive, take cooking classes, learn a few new languages, and eat flavorful, delicious foods. And by sweating, I mean I love to be active. I enjoy rollerblading, biking, running, hot yoga, and Zumba. 

Katherine Langel is the newest member of the CuliNex team, and she joins us as a Culinologist Intern. Katie earned her Bachelor of Science degree in Culinology from Southwest Minnesota State University. Check out her full bio here.