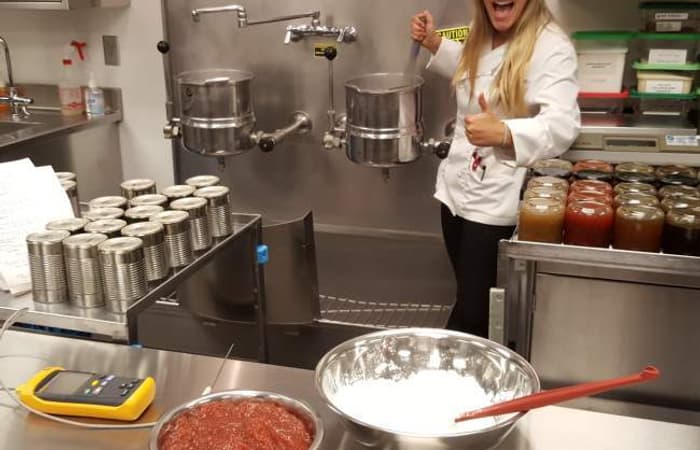 BCFT Food Scientists Spotlight: Webb Girard & Katherine Langel
We weren't kidding when we said we were growing, please welcome our newest intern, Hannah Dressen!
What inspired you to pursue a career in Culinology?
I knew that I didn't want to work in a kitchen my whole life, but I also felt that some of the research food scientist roles were too mundane. It was actually pure luck that I found the brochure for Culinology and decided to take a chance studying it at a different school. It turned out to be the best decision ever! I love working in research and development for the ability to exercise my creativity and culinary skills while also nurturing my need for research and understanding the 'whys' behind science and food. Who wouldn't want to experiment with food?!

Hannah Dressen
What excites you about working for CuliNex?
 I am most excited to be working on clean label product development and new products! I love that we get to work with a variety of products and ingredients, which will allow me to continue to experience different kinds of projects and their process from concept to commercialization. Plus, our field is just so cool!

Hannah Dressen
What's your favorite foodie city?
I would definitely have to say the city of Penang in Malaysia! We spent the whole visit doing a food marathon, searching for the best char koay teow, roti canai, laksa, and cendol. Yum!

Hannah Dressen
What food trend interests you the most?
Vegetable-centric trends. I love figuring out how to replace ingredients in a dish with vegetables to make it become the focus or conversely, undetectable! I will definitely be the cousin who serves a mixture of mashed cauliflower and potatoes at Thanksgiving, muahaha!
People should eat more:
Pulses! 2016 is the International Year of the Pulse and most of my senior year was spent researching, developing, and cooking up delectable dishes with my RCA team to prepare for our pulse competition in Denver and Chicago. Check 'em out! 

Hannah Dressen

Hannah Dressen
When you're not cooking you're:
Running, reading food books, hiking, and exploring the beautiful state of Washington! I am so excited to be living here in the PNW and hope to reach 100 miles of hiking before the summer is over.

Hannah Dressen
Hannah Dressen joins us as a Culinologist Intern. Hannah earned her Bachelor of Science degree in Culinology from Southwest Minnesota State University.
Tell us why you are awesome and what 'clean label development' means to you! Send your response in your cover letter along with your resume to teamawesome@culinex.biz.