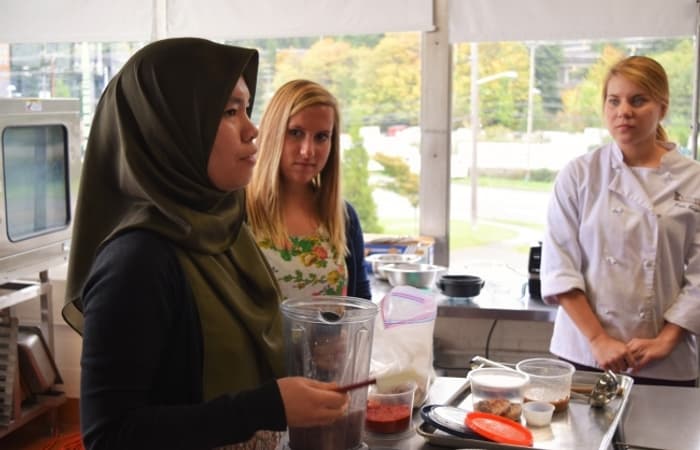 BCFT Food Scientists Spotlight: Webb Girard & Katherine Langel
CuliNex welcomed two visitors (and close friends of mine!) for a sweet and spicy Malaysian cooking education session to explore the flavors of Malaysia. They successfully filled our bellies with nasi lemak with sambal, chicken satay with peanut sauce, and pineapple tarts. Our two guests were students at Southwest Minnesota State University and they studied Culinology, just as I did! Shakira Abu Samah is an international student from Malaysia and Hannah Dressen studied abroad with me in Malaysia. Needless to say, we were able to fill the test kitchen with great food from Southeast Asia!

Emily Munday
Malaysia's traditional dish is nasi lemak, which in English means "fatty rice". It is served at almost every restaurant at any time of the day, but it is most commonly eaten for breakfast. Traditionally nasi lemak is served with cucumber slices, roasted peanuts, a hardboiled egg, anchovies, and sambal. Preparing nasi lemak is simple, especially when you use a rice cooker. We also stirred up a spicy sambal to enjoy with our nasi lemak.

Emily Munday
Nasi Lemak

Ingredients
1 cup Rice
1 cup Coconut milk
1 cup Water
2 Pandan leaves knotted (Pandan flavor will work)
1 Lemongrass stalk
Method
Place all ingredients in a rice cooker.

Emily Munday
Sambal

No measurements necessary - create according to your spice tolerance!
Ingredients
Deseeded dried chilies (boiled until soft)
Red onions
Garlic
Dried shrimp
Palm sugar
Tamarind juice
Salt
Method
Blend chilies, red onions, garlic, dried shrimp, and palm sugar together.
Sauté until fragrant.
Add the tamarind juice and salt.

Emily Munday
Chicken Satay is another Malaysian favorite and is also simple to make. Although the best part about chicken satay is the charring aroma when they grill it over an open flame in the street markets. Chicken satay is skewered chicken that is seasoned with a variety of flavors such as onions, garlic, chilies, soy sauce, coconut milk, fish sauce, palm sugar, turmeric powder, curry paste, coriander, and cayenne pepper. Peanut sauce is always served with chicken satay and if I had my way, I would drink that stuff like a smoothie!
Peanut Sauce

Ingredients
3 cups Roasted peanuts
8 Deseeded and boiled dried chilies
2 Birds eye chilies
4 Lemongrass stalks, diced
1.5 inch size galangal, minced
Palm sugar (to taste)
White sugar (to taste)
2 Red onion, diced
Tamarind juice (to taste)
Salt (to taste)
Water (as needed)
Method
Blend chilies, onion, lemongrass, and galangal with a little bit of water. Do not strain.
Sauté until fragrant in a pot.
Add water to preferred thickness of sauce.
Blend peanuts and add into pot.
Add palm, white sugar, and salt.
Lastly, add tamarind juice until the flavor is balanced.
Let simmer for at least 45 minutes or until a layer of oil forms on top of the sauce.

Emily Munday
My absolute favorite and probably the most addicting sweet treat I experienced in Malaysia were the pineapple tarts. I was lucky to learn how to make these tasty desserts firsthand while in Malaysia. Since the tarts are made differently depending on where you live in Malaysia, Shakira showed us how to make open-faced tarts that you would see in Melaka, Malaysia (which is her home town).
Pineapple Tarts

Pineapple Filling
Ingredients
1 pineapple, cubed
1/2 cup (or more) sugar
Method
Blend pineapple cubes in a food processor until smooth.
Cook pineapple in a saucepot while constantly stirring until it is almost dry.
Add sugar and set aside to cool.
Pastry Dough
Ingredients
4 cups All Purpose flour
1 cup salted butter, cubed, cold
1/4 cup condensed milk
1 egg
1 teaspoon baking powder
Method
Rub cold butter into flour and baking powder mixture.
Add the egg and condensed milk.
Mix and knead until a dough ball is form. Be careful not over knead.
Shape using a pineapple tart press or into small round disks to fill with the pineapple filling.
A special thanks to our guest visitors for allowing our taste buds to travel the world and experience new and exciting flavors. Exposure to new flavors aids us in our creative concepting process. For more information on our process, check out our services page to see how we can help you create new flavor profiles!