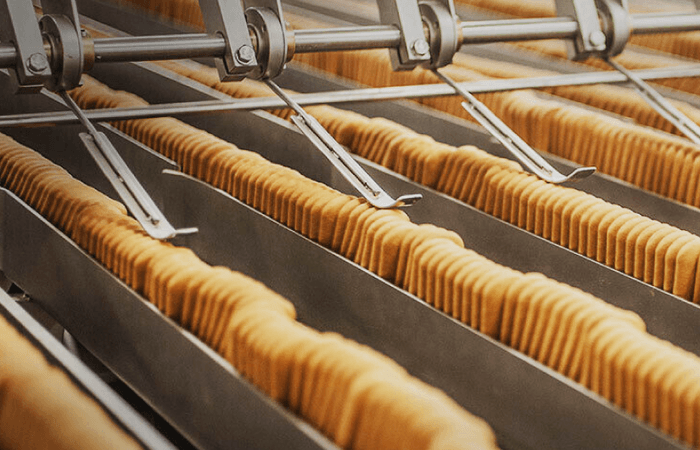 The Essential Guide to Finding a Food Co-manufacturer
Finding a reliable co-manufacturer is essential for emerging brands to multi-brand food manufacturers, and that challenge has peaked in recent years due to labor shortage, supply chain for ingredients, and high demand for specialized equipment serving a growing consumer demand for convenient, nutritionally dense, and specialty foods like plant-based.

Alex Wyandt, CuliNEX Culinologists shares, "A co-manufacturer, also called a co-man, is a company that specializes in producing and packaging food products for other companies. A quality co-manufacturer can help you manufacture and package your food products with the highest quality standards. Other designations often heard in the industry are co-packers that will package goods manufactured by other facilities and assemblers that bring components manufactured elsewhere together in a final consumer package."
CuliNEX works with an extensive list of proven co-mans in our network for a broad list of food product categories, literally from soup to nuts! Part of our technical review for a new project, before ever starting to turn a protocept to a prototype on the benchtop, includes a consideration of the co-manufacturing opportunities for our clients. For a new category, or to expand capacity for a client, CuliNEX Culinologists will sometimes turn to an expert in our network for expanded access to the right co-man. If we don't have them on our contact list, we'll use our resources to find them. Reach out to us if you want support with this process.
To find the best co-manufacturer for your needs, there are a few key factors we explore with our clients before we begin.
Understand Your Needs

Before you begin your search for a co-man, it's important to have a clear understanding of your needs. Do you need a co-manufacturer that specializes in clean label, plant-based, organic, or natural ingredients? How about a co-manufacturer that can manage allergen sensitivities? Are you looking for a co-manufacturer that is able to produce certified gluten free, vegan, kosher, halal or non-gmo products? Knowing exactly what certification you are seeking will help you narrow down your search and find the best fit. CuliNEX can explore and help you answer these key questions.

Research Potential Co-manufacturers
Once you have a clear understanding of your needs, it's time to start researching potential co-manufacturers. Start by searching online for co-man in your area or in places near major distribution centers. You can also reach out to industry contacts, such as food product developers, to get recommendations for co-manufacturers. At CuliNEX, we have a great working list of options and can connect with other professionals in the industry that can support your search.

As mentioned, at this time in our history, it is harder than ever. Many manufacturers struggle with labor availability and are prioritizing current production and clients over bringing in new clients or scheduling plant trial or pilot testing. Working with professionals that have established relationships may help you start that conversation. Don't be afraid to seek support in making these introductions.
Once you've compiled a list of potential co-mans, it's time to start researching each one. Make a table (we love a good spreadsheet)! Set your criteria! Give them a ranking as you narrow your search.
Evaluate Quality Standards
When it comes to food product development, quality is paramount. When evaluating potential co-manufacturers, make sure to research their quality standards. Find out what certifications and accreditations they have, as well as what processes and procedures they have in place to ensure quality control. If you are looking for unique certification or allergen-free facilities, make sure to include that in your quality checklist and discussion. Quality should always be your number one priority when it comes to food product development and the right manufacturers will readily share their capabilities and certifications. 
CuliNEX can also help you develop your QMS (quality management services) program to make sure your product standards are measured, met and documented.

Check References
Once you've narrowed down your list of potential co-manufacturers, it's time to check their references. Reach out to their past and current clients to get an idea of their level of service and quality. Ask questions about their experience working with the company, as well as their overall satisfaction with the products and services they received. This is a great way to get an honest assessment of a co-man's capabilities.

At CuliNEX, our work includes a clear breadth of experience and industry connections that help us assess whether we've found the right facility.
Request a Sample
Once you've narrowed down your list, it's time to request a sample from them to validate their current and past work. This will help you get an idea of their capabilities and give you a chance to evaluate their quality standards, production capabilities, and customer service.

With recent personnel challenges and shortages at many manufacturing facilities, this step is a good first chance to assess the co-man's ability to serve your needs. Are they responsive, supportive, and timely? What is their feedback on delivery timing for samples and follow-up?

Request a Quote
Once you've evaluated the sample, it's time to request a quote. If you have not put a confidentiality agreement in place, this may be the time to do so before you share too much intellectual property. Ask for a detailed quote that includes all the costs associated with your project, as well as the timeline for a pilot test and completion. Make sure to ask about any additional fees or charges that may be incurred. This will help you get an accurate picture of the cost of your project.
While your formulation may drive costs significantly, you will need to decide if you are sharing your ingredient formula at this stage. A co-manufacturer can serve you best by sharing a list of inventoried ingredients that may match with those in your gold standard prototype formula.
Time to Pilot
After evaluating the samples and accepting pricing, it's time to schedule a pilot to ensure that your product can be executed at full scale to your expectations and be made efficiently. Pilot tests will be for a limited production quantity and your production pricing will be higher for this small batch production. Ask for a quote before you begin. The pilot test is also the time to test out different processes, secure samples for shelf-life testing, and make any needed changes. Our clients often use pilot production for sales samples, photoshoots, and product promotion.
Begin with a production-ready formula using industrial ingredients that have been tested on the benchtop with as much stimulation to process steps as possible. Connecting with the co-manufacturer before production to fully understand process steps will help you simulate production using benchtop steps. Production time is expensive and part of your relationship building experience with your co-manufacturer. Plan, prepare and anticipate will help you avoid costly mistakes and avoid delays in moving forward.
Sign a Contract
Once you've received a quote and are satisfied with the terms, it's time to sign a contract. Make sure to read the contract carefully and ask questions if there is anything you don't understand. This will ensure that both parties are clear on the terms of the agreement.

Moving Forward
Finding a quality co-manufacturer for your food product development needs is essential. By understanding your needs, researching potential co-manufacturers, evaluating their quality standards, checking references, requesting a sample, and requesting a quote, you can find the best co-manufacturer for your needs. With the right co-manufacturer, you can be sure that your food products will be manufactured and packaged with the highest quality standards.

Connect with CuliNEX if we can be of assistance - if you'd like to tap into our established list of vetted co-mans or need support navigating your journey with your new manufacturing partner.