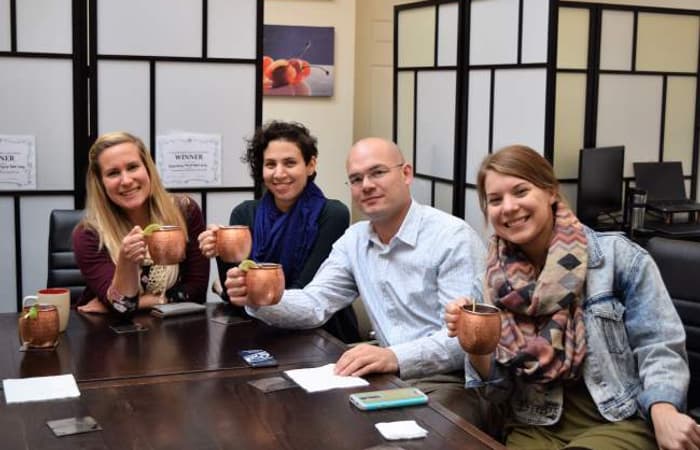 CuliNEX is Hiring: Research Chef/Culinologist
Are you passionate about creating delicious, clean label food? Do you love digging in to the how and why food works? Do you have a good sense of humor and enjoy a dynamic team environment? Then come join us on the bench at CuliNEX!
Our Company
Since 2005, CuliNEX has been the industry's premier consulting firm providing product development & strategic business services focused on clean label food products. While maintaining our commitment to continuous learning, we exceed our client's business goals by developing delicious, clean label foods that create a better planet, healthier people and happier communities.
What We Do
We're passionate about creating great tasting, wholesome food. We specialize in assisting brand owners, food manufacturers, ingredient suppliers and retailers with achieving their growth goals by bringing successful products to market. Our expertise covers a wide variety of food product categories including frozen, refrigerated and shelf stable products, seafood, bakery goods, soups and sauces, dairy products, grains, produce and snack items.
The Job
Our business is growing and we have an immediate need for an experienced Research Chef to join our team. We prefer a Culinary + Food Science, Culinology, or Food Science program graduate with 3 – 6 years of product development experience.
Our contractors work shoulder to shoulder with our team, supporting client projects as well administrative tasks. CuliNEX contractor trials are at least 3 months in length, with the potential for subsequent full-time employment at a rate commensurate with experience, where job availability, fit, and performance align. We are looking for a person with a commitment to clean label food products, and a keen desire to work in food consulting with an industry leader.

Key Responsibilities
While your day-to-day tasks will vary based on our current project portfolio, you can expect your work load to include:
Participation in creative concepting and ideation
Development of design of experiments for benchtop formulation
Writing and preparing benchtop formulations
Preparing and shipping samples for customers
Data documentation and record keeping
Ordering ingredients and communication with vendors to request samples and documentation
Conducting analytical tests and analyzing results 
Coordinating & scheduling kitchen time, equipment and resources efficiently; maintain the organization and cleanliness in the office and test kitchen daily
Setting up and leading product cuttings
Research on various topics, such as competitive products, co-packers, ingredient functionality, processing technologies, packaging, equipment and consumer trends
Our Ideal Candidate  
Passionate about food and the science behind it
Eager to work in a team environment and collaborate
A good communicator with an ability to follow directions
Analytical and creative thinker; enjoys participating in the product development process
Curious problem solver, able to brainstorm solutions to challenging problems
Committed to continuous learning and improvement
Organized and detail oriented
Self-motivated and able to self-manage
Can multitask and prioritize in a busy kitchen environment (foodservice experience is helpful)
Able change gears quickly and handle ambiguity with grace
Interested in giving back to our industry through networking, utilizing social media, public speaking, attending trade shows and conferences, and creative and technical writing
Able to travel occasionally for presentations, conferences, and trade shows

Required Knowledge, Skills & Abilities
Proficient on computer programs including Excel, Word & Outlook; knowledge of SharePoint a plus.
Have a reliable car, personal laptop computer and cell phone
Able to lift 50 lbs., walk up and down stairs, and climb ladders
Must be able to work for extended periods of time while standing and sitting
Education and Experience
Diploma, AA or BA in Culinary Arts plus a B.S. in Food Science, or a B.S. in Culinology, B.S. in Food Science with a 3.0 GPA or higher (for recent graduates), OR equivalent work experience.
3-6 years working in a commercial or industrial kitchen or plant environment preferred.
The Environment
CuliNEX is located by Sea-Tac International Airport, 10 miles south of downtown Seattle, WA. Our business is typically Monday through Friday and we offer flexible hours to make sure team members maintain a good work/life balance. Work averages 35-40 hours per week at a rate commensurate with experience. 
We work hard, have fun and believe in our team. You'll need to be ready to roll up your sleeves and get to work, speak up and lend your voice to the collective conversation. You must be able to go with the flow of our ever-changing, quickly growing business.  A great sense of humor, an ability to laugh at yourself, a caring nature and an unquenchable curiosity will serve you well here. We make an intentional effort to create the right culture at CuliNEX and offer the following perks:
Great coffee, beverages (even beer!) and plenty of snacks
Birthday and hire date anniversary celebrations
Many team building events including local purveyor tours, dinners and lunches with the team, spontaneous celebrations and opportunities for FUN

Benefits
CuliNEX is proud to offer all team members a comprehensive career growth plan that fosters your passions as well as your personal and professional growth. Once hired on as a full-time employee, you can expect to enjoy the many benefits CuliNEX offers:
IRA Retirement Savings Plan with company match of up to 3% of your salary
Medical Reimbursement Benefits up to $1,680/yr.
2 weeks paid vacation
11 Company holidays, which includes the week between Christmas and New Year's Day
One paid membership in either the RCA or IFT
Paid attendance and travel to one Trade Show or Association Conference per year.
Company paid continuing education seminars
To Apply
We currently have a position open.
This position is in Seattle, WA. Candidates must be able to relocate independently.
Please submit resume and a cover letter describing what clean label food means to you.  Be sure to use "I want to join Team Awesome!" in the RE: line. Please do not call our offices about this position. Send your packet to: teamawesome@culinex.biz