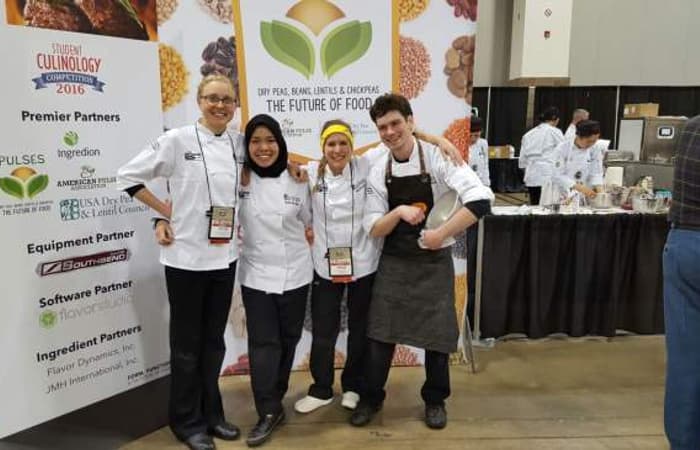 Beans, Beans, The Wonderful…Pulse?
This past year I had the opportunity to take part in the Research Chefs Association Student Culinology Competition. With my team from Southwest Minnesota State University, we headed to Denver, CO to take part in the product development competition that featured pulses. We were even lucky enough to be asked to present at the Global Pulses Showcase with other international teams at this year's IFT Expo in Chicago, which was truly an internationally inspiring event. These experiences opened my eyes to the almost limitless possibilities of pulse ingredients. 


Our team made Southwest Street Tacos, a single-serve, microwaveable frozen meal that included two soft Native American-style Navajo bread tacos with a bison green chile filling and spicy refried lentils. The tacos were topped with a colorful roasted pepper salsa and a refreshing drizzle of cilantro lime Greek yogurt sauce.
Each serving contained 27g of protein and was an excellent source of fiber. We truly tried to exercise the versatility of pulses as we incorporated them into our meal in four different ways: red lentil flour for the Navajo Bread tacos, red kidney beans and pea protein in the Bison Green Chile, and red lentils in our refried lentils.
All pulses are legumes, but not all legumes are pulses
Pulses are part of the legume family, but pulses actually only refer to the edible dried seed. The world of pulses includes chickpeas (garbanzo beans) lentils, dry peas (split, whole green and yellow) and all dry beans; adzuki, black, black-eyed peas, kidney, dark and light red kidney, great northern, navy, pinto, fava, small red, mung, lima, cranberry, and pink. That's a lot of beans! Fresh beans and peas like soybeans and peanuts are legumes, but not in pulse family because they contain a much higher fat content, compared to pulses which have almost no fat at all.

http://www.pulsecanada.com/food-health/what-is-a-pulse
Nutritional Powerhouse
Pulses are nutrition-packed powerhouses, filled with folate, potassium, magnesium, and zinc, pulses are considered both a protein and a vegetable. A half cup serving of cooked pulses can offer up to 9 grams of protein, plus they're low in fat. They are high in antioxidants, iron, and soluble and insoluble fiber, both which help to regulate your digestive system, may help with weight loss, and make you feel fuller for longer. If you're still not sold, hop on the gluten-free band wagon and you've got endless flour options for substitutional baking.
Can't Beat the Price
Pulses are a staple food ingredient in most global cuisines and their low cost keeps them there. The U.S. cost per serving of lentils is about $0.10, compared to price of other proteins such as beef ($1.49), pork ($0.73), chicken ($0.63). A bag of lentils at the store costs around $1.49/ pound and can be used in smoothies, desserts, meat substitutes, baked goods, or anything your little creative heart desires.

http://www.cookingwithpulses.org/ 
Environmental Impact
Perhaps the best thing about pulses is that their impact on the environment; they help decrease greenhouse gases, use less water than most crops, and fix nitrogen in the soil, making them an ideal for crop rotation to enhance crop diversity, improving soil fertility and reducing pesticide use overall. Crops such as peas, beans, and alfalfa all provide substantial amounts of nitrogen that remain in the soil longer than most synthetic fertilizers.
Ingredient Options
Contact any of the companies that partner with the US Dry Pea & Lentil Council and you can obtain whole seed, de-hulled split, ground, flaked, fractioned, purees, flours, proteins, fibers, pea bran meal, ground pea hulls—and more!
Applications
Pulses are interesting to us as Culinologists because of their versatility in food products. Need to increase the protein and fiber content in wheat noodles? Reformulation can be easy with the addition of pea protein or other pulse flours. Other applications that may benefit from pulse ingredients include moisture retention in meat products, crispiness and bulking in crackers and biscuits, chewiness and shelf life extension of snack bars, and emulsification and viscosity in soups and beverages. The functional qualities of natural legumes can open up many doors as the food industry moves to more clean label functional ingredients.

The United Nations declared 2016 as the International Year of Pulses, meant to highlight the benefits pulse consumption and encourage connections and conversation about pulses in the food industry.
Hungry for more lentil information? Check out 15 Health Benefits of Lentils, According to Science (+8 Delicious Lentil Recipes).
Do you need help formulating a pulse-centric product? Call us today and see how we can help jump-start the process!