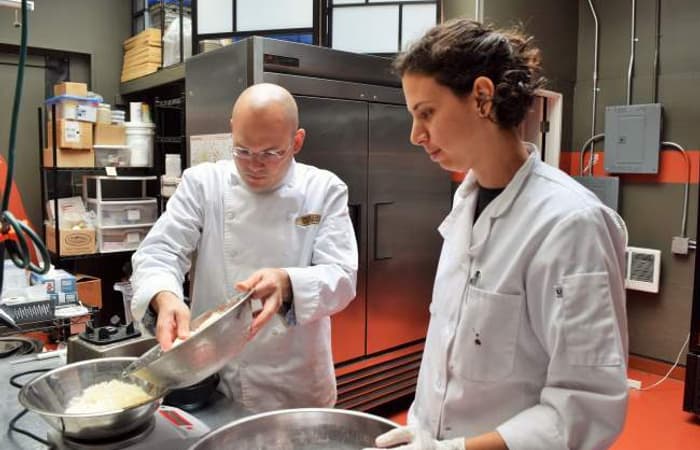 BCFT Food Scientists Spotlight: Webb Girard & Katherine Langel
This week's feature in our blog series on a day in the life of a Culinologist is Webb Girard. Find out the inside scoop on what it is like to be a Culinologist at CuliNex.  
What's your role at CuliNex?
Roles? I have many duties at CuliNex, starting with daily project management and product development. I also provide technical and commercialization expertise to the other developers through my food science and production backgrounds. At times I also act as the facilities manager and general fix-it man doing basic maintenance to the office. Maybe most importantly, I act as the Chief Enablement Officer ensuring we take time off to relax and enjoy a beverage and each other's company.

Emily Munday
To start your morning: coffee or tea?
Murchie's Earl Grey. I have never been a coffee drinker.
What's a typical day look like for you?
No day for me is typical. I generally have a good idea as to how my week is planned out but my schedule can shift around depending on the immediate priority.
What kinds of projects are you working on right now?
I currently have a diverse product lineup. Projects I am involved in include frozen desserts, crackers, dressings, cookies, and candy.

Emily Munday
What's your favorite part of the development process?
My favorite part of the process is trying to figure out how to replicate production processes on the bench level so that my 1-2lbs of bench product translates easily to 1,000's of pounds of product as seamlessly as possible. 
What's the best part of your job?
The constant curiosity and puzzling things out. I like to discover how multiple pieces come together to complete the picture. Every project is different, and though they have some similarities and synergies, there is still the need to figure out the rest of the pieces.

Emily Munday
What do you snack on at work?
I tend not to snack a whole lot. I have my emergency reserves for the days that I need an extra meal, but it isn't a regular thing.
What's your "secret" for efficient benchtop development?
I spend more time considering my formulations and processing than I do on the actual benchwork. Knowing what you want to do before hitting the bench and being aware of the possible outcomes helps facilitate success in further development rounds. I also like to "break" formulas early on. I intentionally set unreasonable limits on new ingredients to test if my limits are truly unreasonable.

Emily Munday
Outside of the office, what do you do for fun?
I love to spend time with my wife and two daughters. All three have their own certain brand of crazy that keeps life interesting. I also enjoy running, home brewing, coaching soccer, and yard work.
Stay tuned for more from a day in the life of a Culinologist blog series!