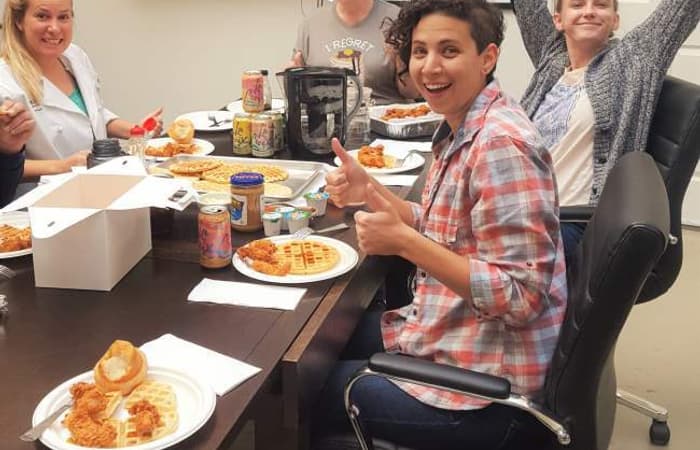 A Day in the Life of a Culinologist: Lesley
Lesley joined the CuliNEX team as an intern two years ago, but quickly graduated to full-time Culinologist and has been a vital member ever since. Here's a sneak peek behind the scenes into Lesley's world. 
What's your role at CuliNEX?
I am a developer focusing on food science, our tech super-user, and do lots of other tasks, just like the rest of our busy team.

Katherine Langel
To start your morning: coffee or tea?
Definitely coffee! I like mine with just a splash of half and half. When I feel like a treat, I stop by my favorite Vietnamese deli in the International District for a creamy, sweet, highly caffeinated Vietnamese iced coffee to jump start my day.

What's a typical day look like for you?
There is no such thing! My days are very diverse, often starting with catching up on emails and scheduling, a few team meetings to discuss projects, some time on the bench working on formulations, some paperwork, a tasting, and on and on!
What kinds of projects are you working on right now?
Right now we have lots of active project and I am involved with many of them which keeps me busy and my mind working! I'm working on salad dressings, cookies, an applications research project, frozen desserts, and other small things here and there.

Lesley Werblin                         
What's your favorite part of the development process?
My favorite part of the development process is initial formulation. I like taking a concept and working it into a formula, keeping in mind all the parameters for the end product: flavor, texture, nutrition, allergens, processing parameters and looks! Trying out that first formula is always a bit of nerve mixed with excitement.
What's the best part of your job?
The best part of my job is that I am rarely ever bored! We have so many projects of different types that there is always something interesting happening in the office and test kitchen.

Lesley Werblin 
What do you snack on at work?
I snack on all sorts of things! Typically, there are plenty of leftovers from product tastings to snag a few bites, but I often bring cut up veggies to crunch on and have a bad (or is it good?) habit of baking sweet treats for the team.
What's your "secret" for efficient benchtop development?
DETAILS, DETAILS, DETAILS! It's not so much a secret, but I like having my bench top itself organized with each ingredient lined up and needed utensils easily at hand. I've gotten in the habit of having a "dirty utensil" container on my bench which helps me be efficient and clean.
Katherine Langel


Lesley Werblin
Outside of the office, what do you do for fun?
I like to cook, bake and preserve (of course!), grow veggies, hike & camp!
For more information on the CuliNEX internship program, check this post out!