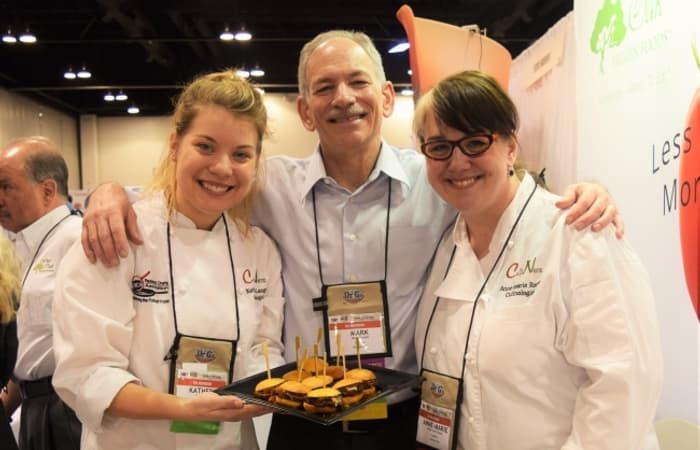 BCFT Food Scientists Spotlight: Webb Girard & Katherine Langel
Have you ever wondered what a Culinologist does exactly? What excites us and keeps us hungry for more? Wonder no more! We are starting a new blog series on a day in the life of a Culinologist, an insider's peek into the secretive world of food product development. Let's start with our newest Culinologist, Katherine Langel.
What's your role at CuliNex?
I wear many hats, like the rest of the team. My development/bench hat is a well-worn, chocolate covered, loved baseball hat that fits perfectly and is usually worn backwards. My kitchen management/tidiness hat is actually a red handkerchief that keeps the hair out of my face to get the job done and keep the place organized. My cheerleader hat is not actually a hat, but a sparkly, bright bow that cheers the team up and promotes a fun vibe in the test kitchen.

Emily Munday
To start your morning: coffee or tea? COFFEE.
What's a typical day look like for you?
What's a typical day? There is no such thing at CuliNex! Some days, I could be running around in the test kitchen preparing samples and shipping them to clients. Or I could be developing formulas, organizing documents, or sourcing new ingredients at my desk. Or I could be involved in a formal ideation session and creating fun ideas on large post-it notes. Or I could be out of the office at a tradeshow, a conference, a flavor class, or local food event learning about canning tuna! There is never a dull day!

Katherine Langel
What kinds of projects are you working on right now?
I have my hands in almost every project, which is great because I am exposed to different parts of the development process and am learning more about each food category. I am most involved with a dressing project and am busy developing delicious flavors! I also am screening and conducting a co-packer search, which allows me to network throughout the food industry.

Katherine Langel
What's your favorite part of the development process?
Conducting a competitive scan is my favorite part of the development process for two main reasons; 1. I get to browse through multiple grocery stores for different, competitive flavors/brands and for innovative ideas for flavors and packaging and 2. I get to sample all the fun products! Not only is it exciting to be exposed to new and innovating flavors, but it is great for concepting and ideation.
What's the best part of your job?
There are a lot of awesome things about my job; from creative projects to working in all aspects of the development process to the endless networking and learning opportunities, but the best part is the people I work with. My teammates are extremely supportive, intelligent, and always ready to work hard and play hard.

Emily Munday
What do you snack on at work?
Ha, I am often found snacking (or as we like to call it snacketing, a term coined during one of our super-productive marketing meetings) at work because there is usually a product tasting or something left over from a previous project to nibble on. And for very desperate times, I have a desk drawer dedicated to snacks.

Katherine Langel
What's your "secret" for efficient benchtop development?
My secret is to be very organized and to pay attention to details before hitting the bench. I always read through the formula to make sure I know exactly what I will need and what I am doing. Organization and communication is key to being efficient for all parts of the development process.
Outside of the office, what do you do for fun?
I love to be active, so outside of the office you will find me mostly likely outside Zumba-ing, running, rollerblading, hiking, sun bathing, hammocking, or beer drinking – if you considered that 'active'.

Emily Munday
Stay tuned as the 'A Day in the Life of a Culinologist' series continues!